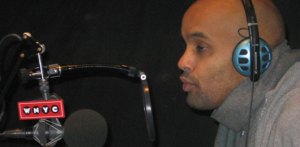 "Being pop critic at The Times is a dream job—certainly it was mine," the former occupant of that position, Kelefa Sanneh, wrote in an e-mail to Off the Record this week.
But a little more than two weeks ago, Mr. Sanneh left his dream job for the other dream job: a reporting gig at The New Yorker. Since March 3, when a Times memo went out announcing Mr. Sanneh's departure from the newspaper, the word has been spreading in music circles that a new music-critic star was about to be made: When was the last time there was a music critic opening as big as this one?
"I've gotten e-mails from college friends saying, 'Dude, it's open!'" said one music critic.
And now The Times has begun its search for a replacement.
"These are early days yet," said Sam Sifton, the culture editor of The Times, to Off the Record. "We're looking at a lot of candidates."
Traditionally, The Times has gone one of two routes for these positions: They can pluck the well-groomed outsider, such as a Manohla Dargis, the star film critic who came from The Los Angeles Times; or they can go out of context and pick someone closer to home who is in need of a bit of a stretch. (Remember when Frank Bruni became the paper's restaurant critic?)
This is, of course, presuming The Times gets the O.K. to go out and hire a replacement. Last month the paper announced there would be about 100 newsroom job cuts, and there is currently a hiring freeze, though many editors at the paper have told OTR that there are easy ways to work around that whenever there is an opening.
Over the past two weeks, editor Sia Michel, who has been the point person on finding a replacement, has started reaching out. According to several sources with knowledge of the situation, the paper has already been in contact with at least two people: Jon Caramanica, a Brooklyn native and Harvard graduate who is the music editor at Vibe (a position that he's leaving later this week, a source said); and Jody Rosen, Slate's music critic, who wrote the cover story on country singer Taylor Swift for the current issue of Blender.
They both have a knack for hip-hop, and Mr. Caramanica and Mr. Rosen also write about country music, which suggests they are looking for some of the same background they had found in Mr. Sanneh.
The job requires lots of writing, lots of late hours. In 2007, Mr. Sanneh had 170 bylines; in 2006, he had 264. According to Condé Nast sources, Mr. Sanneh was getting exhausted with the workload.
Though he told Off the Record otherwise: "It's also a job that's impossible to complain about, partly because it's the opposite of boring, and partly because no sympathy will ever be offered to someone who goes to concerts for a living."
Mr. Sifton wrote in a Times March 3 memo that Mr. Sanneh was "one of the most inventive, interesting and brilliant pop music critics in the history of the form."
And now someone has to follow up! Someone who won't mind traveling to Glassland in Williamsburg at three in the morning to catch Vampire Weekend, file overnight, and then show up at Terminal 5 the next day to review another show.