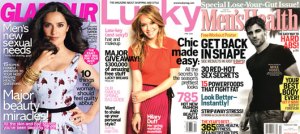 The cover of the April Lucky brags that the magazine contains "785 hot new fashion and beauty ideas." Domino's March edition suggests "150 easy ways to go green at home."
"NUMBERSSSS! Why all the GIGANTIC MEANINGLESS NUMBERS?" rhetorically asked the blog Jezebel, which chronicles women's magazines, on March 7.
Really, why?
Dave Zinczenko, the editor of Men's Health, and Cindi Leive, editor of Glamour, discussed their cover-number calculus at the bar at Michael's on Monday, March 17, during New York Post media columnist's Keith Kelly's annual St. Patrick's Day fund-raiser.
"The smaller the number and the more specific, the better," Mr. Zinczenko said.
"To me, that promise of volume seems a little bit tired," Ms. Leive said. Still, Glamour has two numbers on its cover this month: "10 things no woman should feel guilty about" and "15 super honest answers to your most private health questions."
"We've trained our readers to look for the numbers," said Peggy Northrop, the former editor of More and newly anointed editor of Reader's Digest, who was standing a few feet away. "It's become one of those things that magazine editors fall back on. I just put one on my May cover. … We all go to the newsstands and look at what's happening, and you see who's up and who's down and then you change it accordingly."
"It's both a promise to the reader and a great graphic device," said Kate White, the editor of Cosmopolitan, on the phone later. But "we don't do those super-big numbers."
Do they come up with the number beforehand, or actually count noteworthy items one by one?
"It depends," said Mr. Zinczenko. "With the bigger ones we'll take an average where we say, 'O.K., we have 8 tips per page and 140 editorial pages and hence we have 1,100 tips in the magazine.'"
"We decided in August or so that we wanted to do 365 beauty ideas in the beauty section for our January issue," Ms. Leive said. "The beauty department commissioned 365, and there was some last-minute talk if there should be 366 beauty ideas for the leap year, but we decided against it."
"I have to like the number," Ms. White said. "Sometimes i'll have 75 items and I'll like the number 67 better."
And what poor sap has to total everything up?
"Our research department literally just counted the number of products we had in the issue and that's the total we had," said James Baker, the editorial director of Real Simple, of the "218 Best Buys" that graced its January cover, also on the phone.
"We'll assign a research assistant or a hapless intern to try to count up most of the tips in the magazine and find some way to quantify for the cover of the magazine," Mr. Zinczenko said.
Ms. Leive said the vast majority of the time Glamour's numbers are commissioned beforehand, but that she's less inclined to use the really big ones now, and alluded to a mysterious magazine malady, "numbers fatigue."
"We're using them a little more sparingly—there's an eye-roll factor," she said. "A few years ago there was a numbers arms race and these numbers were ballooning into the thousands! That's changed."