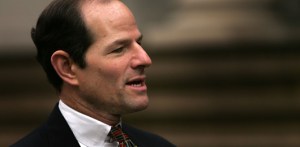 My colleague Eliot Brown interviewed Eliot Spitzer at length in late December about the various developments the Governor was taking a very public role in pushing. These developments included the massive Moynihan Station, which would include a revamp of the current Penn Station, the city terminus for Amtrak.
Mr. Spitzer's take on Penn Station now seems somehow ironic, given who passed through it on Feb. 13 on her way to D.C.:
Right now, as an entry point to the metro region, the existing Penn Station is certainly not what we would desire. It's—the metaphors I use I'm not sure I want printed. … When you go down into the depths of Penn Station, you feel that you're descending into one of Dante's levels of hell.