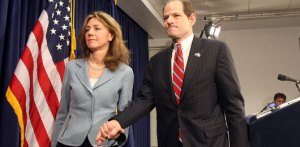 Message failure has always plagued Eliot Spitzer, governor and accused sex exporter.
On Tuesday, day two of his scandal, his camp began reaching out to crisis management professionals—what we used to call publicists.
But Spitzer & Co. were a day late and at least $2,721.41 short. At least his people recognized—and, probably more difficultly, convinced Spitzer—that someone needed to clean up his senseless public mess.
Unfortunately for Mr. Spitzer, at least one major firm turned him down on Tuesday as a client, according to an industry specialist. There was nothing that they thought they could do for him.
His sex-ring circus displays his greatest failure of articulation yet.
Back in the attorney general's office, he had people who could decently interpret him for the public and the press.
And one-on-one, he was at least so-so while glad-handing and talking to voters. During his campaign for governor, I came upon him chatting comfortably about Shakespeare (Julius Caesar) with two youngsters in Long Island.
(Then Hillary Clinton—Ha-ha, she was campaigning for reelection as senator! Funner days!—showed up, and they got manhandled by the press. "You get an idea of what Eliot and I go through," Mrs. Clinton said. Well, he actually didn't know yet himself—but now he does.)
But Spitzer takes no counsel. His management of press and language this week has been atrocious.
He is going it alone—in a city that offers, for better or for worse, the world's foremost experts on public crisis management. (He is not, at least, being advised by the top firms.)
Alec Baldwin, for one, is still beloved—even though, you may recall, a possibly career-destroying voice mail was made public not long ago, one in which he called his daughter a "thoughtless little pig."
Jim McGreevey was managed every step of the way and has emerged almost reputable—even though he, you know, tried to take down the state of New Jersey.
And who else? Jesus, everyone else.
So shortly after 2 p.m. on Monday, the New York Times Web site announced in a headline: "Spitzer is Linked to Prostitution Ring."
This was already an extreme failure of message-crafting. That headline suggested even worse than what turned out to be the case. All you could think about was his pale thin chest. And pimps. And sleaze.
This was according to "an administration official," one that should be fired for his or her incompetence for letting the story go out like that.
Not that that matters now.
Online, The Times said, all day: "Spitzer linked to sex ring." Terrible! On paper, on Tuesday, at least it included the phrase "as a client." Better.
He was not dealing with the press, even in his Manhattan pressroom on Monday afternoon, up on the 38th floor of 633 Third Avenue, with the blinds closed.
A spirited discussion took place among the photographers about misdemeanors and felonies, streetwalkers and prostitutes. "How many L's, how many T's, in Eliot?" asked a Times reporter.
There was a false alarm when the door at the front of the hot room opened, and everyone jumped. This was an upsetting place to be.
"Unless he resigns right now," said a reporter. "No, he won't," said another.
"Tomorrow the Post will have pictures of him with the prostitutes," one reporter teased a New York Post reporter. (They did not, somehow.)