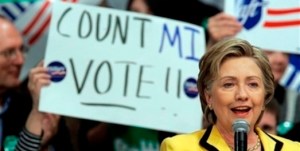 Barack Obama criticizes John McCain's Sunni-Shiite mistake, and the McCain campaign says Obama has no strategy for Iraq.
Rick Karlin points out that not much is happening with the budget right now because the budget conference committees didn't meet today, and the legislature isn't scheduled to reconvene until next Wednesday.
The Empire State Development Corporation Chair for upstate, Daniel Gunderson, said he's not going anywhere.
Brooklyn residents are opposing the reopening and expansion of a jail downtown.
Bill Clinton's former adviser, Lanny David, criticizes Obama's speech on race.
So does Harry Stein in City Journal, writing "it strived to set, and limit, the terms of this long overdue conversation."
But Marc Ambinder points out that both Pat Buchanan and conservative writer Charles Murray praised it.
John Riley finds Peter King's criticism of Obama's race speech a bit rich.
And William Greider writes in The Nation that Obama captured "the essence of the blues."
The Economist considers how bad McCain would be for the pharmaceutical industry.
A Reuters-Zogby poll shows Obama's advantage over Clinton has narrowed, and McCain has gained on both Democrats in hypothetical general election match-ups.
The Acting Superintendent of the State Police—who was a player in Troopergate—has resigned.
The chair of the Jefferson County G.O.P. wants David Paterson to call a special election to fill Darrel Aubertine's Assembly seat.
A Gallup tracking poll shows Hillary Clinton now leading Obama nationally.
McCain is leading Democrats in Kentucky and Missouri; Clinton beats McCain in Ohio, but Obama doesn't.
Liz reports that Hank Sheinkopf met with Peter Vallone, Jr.
While in West Virginia today, Clinton called David Petraeus "an extraordinary leader and a wonderful advocate for our military."
WNYC's Andrea Bernstein asks listeners (and readers) to "crowdsource" Clinton's White House schedules.
Ben writes that the only piece of news to come out of those schedules so far is a Nafta briefing.
Newsweek confirms that thought with the headline "Clinton's Schedules Hold Little New Information."