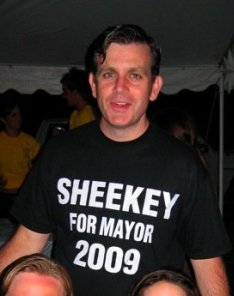 About recounting her trip to Bosnia Hillary Clinton said, "So I made a mistake. That happens. It shows I'm human, which for some people is a revelation."
In Kentucky today Bill Clinton told supporters, "I need to quit this. Somebody will probably figure out how to … accuse me of being Joe McCarthy again."
Michael Calderone considers why it took so long for the real story about Clinton, Sinbad, and that not-so-dangerous trip overseas to come out.
A new North Carolina poll has Barack Obama with a big lead over Clinton, 55-34. This follows a poll that showed them pretty much tied.
The Clinton campaign hasn't yet committed to a debate in North Carolina.
It's hard to get Jeremiah Wright's sermons on D.V.D. now, but they are available by podcast.
Nancy Reagan will endorse John McCain.
Christopher Orr thinks the Clinton campaign's ambiguous position on pledged delegates is an effort to muddy the waters.
More city workers aren't happy about the palm scanners that monitor their attendance.
Once again, the application for the New York Interconnect–a giant powerline that would run through the state–is incomplete.
The State Democratic Party spent $9,000 on polling for Tim Green, the former N.F.L. star.
The Department of Transportation is already looking to fill jobs related to congestion pricing, even though it hasn't been passed yet.
Assemblyman Marcus Molinaro wants Paterson to reduce the number of economic development chairs in the state from two to one.
As it turns out, everyone is related to everyone, including Brad Pitt to Obama and Angelina Jolie to Clinton.