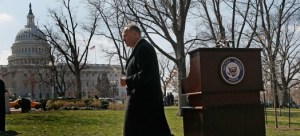 The New York Times profiles "Kristen."
"Mr. Paterson is no steamroller," writes Nick Confessore after speaking with lawmakers.
It's unclear who would break a tie in the State Senate now.
Eliot Brown considers what David Paterson will mean for development in New York City.
Robert Mueller isn't saying anything about the leak of the identity of Client 9.
Richard Brodsky thinks Paterson is "sweet-tempered."
Chuck Schumer says Paterson will be a "first-rate governor."
Paterson will be sworn in and speak during a joint session of the legislature on Monday at noon. =
The federal prosecutor says Spitzer hasn't cut any deal.
Michael Bloomberg says "we have to move forward." 
Bloomberg announces a new residential parking program. 
Geraldine Ferraro is out (of her ceremonial role in the Clinton campaign).
Obama appeared with lots of military-types.
There's a new Obama musical YouTube.
Mitt Romney would be honored to be John McCain's vice president.
Rick Davis asks supporters to be more positive about McCain, and less negative about Democrats.
An advanced look at tomorrow's Pennsylvania poll has Clinton 56 to Obama 36.
McCain thanks New Hampshire in person.