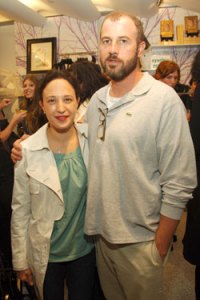 According to city records, fabulist James Frey has a fabulous new unit to add to his three-bedroom apartment at 505 Greenwich Street. This month, Mr. Frey and wife Maya closed on a $985,000 one-bedroom apartment, next door to the three-bedroom condo.
They bought that first place for $2.55 million in May 2005, half a year before his two best-selling addiction memoirs were exposed as massively fictitious. "I don't think it is a novel; I still think it's a memoir," he said about A Million Little Pieces on Oprah, even after he'd been outed. (The TV guru, who had helped the book sell millions of copies when she added it to her book club, got teary and quite upset.)
This time around, the one-bedroom condo was never on the market: Mr. Frey scooped it up directly from his neighbor, a contractor. "I guess it was just in the hallway: 'Hey if you ever want to sell, let me know,'" the neighbor told The Observer. "He'd been wanting to do it for a while—he kept mentioning it to me."
In exchange for his persistence, Mr. Frey now has an extra 722 square feet to add to his 2,039. According to old listings, his new unit has a cook's kitchen, a luxury marble master bathroom, and floor-to-ceiling windows, which will probably go well with the open kitchen and "lavish master suite" in his first apartment—which was apparently "designed to maximize its luxury, privacy, and grandeur."
Despite the brutal fallout from his fake memoirs (being forced by Oprah to acknowledge that you spent a few hours in jail instead of 87 days, for example, has to hurt an author's ego), Mr. Frey received a reported $2 million from HarperCollins for his upcoming novel, Bright Shiny Morning. The book's publisher told The Observer last year that the reported number is wrong, but wouldn't say whether it's low or high.
Why does Mr. Frey like the building so much? There's a Zen-meditation garden, for one thing, plus a health club, a pet spa and a 24-hour doorman, valuable for keeping away the passionate 1,729 readers that joined a lawsuit complaining about the would-be memoirist's fraud. They were awarded $27,348 last year.