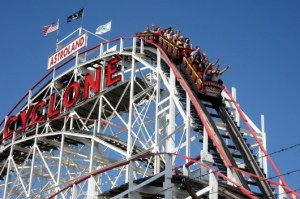 The Bloomberg administration's plans to revitalize and reinvent Coney Island have been through a noticeable evolution. A year ago, the city wanted to partner with the private landowners in the amusement district at Coney to give the historic hub a makeover, establishing the neighborhood as a regional destination.
Then the city determined that the private landowners—one in particular, Joe Sitt of Thor Equities—were not the perfect partners they had imagined. In November, the mayor announced a plan that would put the city in the captain's seat by taking control of the entire amusement zone, buying out or trading property with the owners.
Then last night, at a forum at the Museum of the City of New York, a city official acknowledged there were talks going on to reach some sort of agreement where the city would realize a remade amusement district in conjunction with the private landowners, which would represent a reverse from the November announcement. The official, Coney Island Development Corporation president Lynn Kelly, said she could not expand much beyond that, but did say of the plan that "the different landowners could partake in all of this."
Why the shift since November?
As often with development fights, local politics reign supreme.
Some key colorful local elected officials greeted the city's plans with some displeasure, with State Senator Carl Kruger vowing to block a crucial measure that moves around parkland designation. Mr. Kruger became an immediate outspoken opponent after the plan was unveiled, though he did not say much about it while it was being crafted in a relatively public manner.
Then there is Councilman Domenic Recchia. Also at the forum last night, Mr. Recchia believes a city-led rezoning is the right answer, but does not want to see the city force out the existing landowners, particularly Mr. Sitt, whom Mr. Recchia called a good friend.
Mr. Recchia made clear last night that he was unmoving in his opposition to a large city-owned amusement district (the city would turn it into parkland and lease it to an amusement operator), saying the proposal was unfair to the owners and it would not work financially.
"By making it parkland it only really adds value to one party and that's the city," he said.
To complete its plans, the city would need the support of the City Council, which often defers to the local council member.