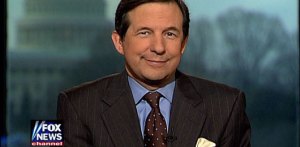 On the morning of Friday, March 21, Chris Wallace woke up at his home in Washington, D.C., grabbed some fruit and yogurt, and turned on the Fox News early show, Fox & Friends.
Steve Doocy, Gretchen Carlson and Brian Kilmeade were talking about Barack Obama's recent characterization of his grandmother on a Philadelphia radio show: She was a "typical white person, who, if she sees somebody on the street that she doesn't know, there's a reaction that's been bred into our experiences that don't go away and that sometimes comes out in the wrong way."
"Can you say 'typical white person' if you're white?" asked Mr. Doocy. Of course not, noted Ms. Carlson. There's no way that Senator Hillary Clinton could use the phrase "typical black person," they noted. "So there is a certain double standard in society," said Ms. Carlson. And also: "I sort of take offense at that line: 'typical white.'"
Mr. Wallace was getting a little bit annoyed.
"I didn't think it was fair. I didn't think it allowed Obama to make his point," Mr. Wallace later told The Observer in a telephone interview. "I thought it made it sound like he was just engaging in a racial stereotype, which I think he was. But it was in an interview, not in a speech. I thought that as he went on and finished the thought over the next sentence or two, he softened that kind of harsh phrase. And saying, listen, a typical white person who has grown up and had a certain set of experiences, and reacts in that way. I thought he was softening it. I didn't think we were providing the full context of what he was saying."
After breakfast, Mr. Wallace went to work and began his usual Friday routine, patching into sister programs to promote the lineup of guests he is expecting on the next broadcast of Fox News Sunday.
Between "hits" with affiliates around the country, he kept an eye on the Friends. "Typical white person," "typical white person," "typical white person," he heard over and over again.
"I think I was especially disturbed by the fact that the clip as they played it—which cut off after 'typical white person' without Obama's elaboration—did not do justice to his explanation," he said.
Soon it would be time for him to pop in on Fox & Friends to do his shtick; he made a snap decision.
"Hey, listen, I love you guys but I want to take you to task, if I may, respectfully, for a moment," said Mr. Wallace on air. "I have been watching the show since six o'clock this morning when I got up, and it seems to me that two hours of Obama bashing on this 'typical white person' remark is somewhat excessive, and frankly, I think you're somewhat distorting what Obama had to say."
Over the years, Mr. Wallace's brusque manner has raised the hackles of many a subject. According to Time magazine, Mr. Wallace, during a press conference in March 1987, asked Ronald Reagan a particularly tough question about Israel's involvement in arms sales to Iran. Famously, in September 2006, during an interview with President Bill Clinton, Mr. Wallace referenced the reporting in Lawrence Wright's Pulitzer Prize-winning The Looming Tower, and asked Mr. Clinton, "Why didn't you do more to put bin Laden and Al Qaeda out of business when you were president?" A red-faced Mr. Clinton responded, in part, by accusing Mr. Wallace of a "conservative hit job." This past November, during an interview on his Sunday show, Mr. Wallace asked Fred Thompson, then a presidential candidate, about all the "buzz" about his "disappointing" campaign. A visibly angry Mr. Thompson responded by accusing Fox News of being biased against him.
Back in the studio, the members of the Fox & Friends crew seemed similarly miffed to find themselves on the receiving end of their colleague's bluntness. (Mr. Wallace is the son of Captain Confrontation himself, CBS's Mike Wallace.) In response, Mr. Doocy and company defended their analysis. Mr. Wallace stuck to his point. "I still love you," Mr. Wallace said in conclusion. "Yup, okay," replied Mr. Doocy. "An odd way of showing it."
On Monday afternoon—with clips of the confrontation having seemingly ricocheted to every far-flung corner of the Web and with everyone from official Obama bloggers to MSNBC's Chris Matthews rushing to pat Mr. Wallace on the back—NYTV caught up with Mr. Wallace via phone. The longtime newsman said that in retrospect he had mixed feelings about making the remarks.
"I didn't have any second thoughts about the substance because I still believe what I said was right," said Mr. Wallace. "But after the fact, you do think to yourself—on a professional level with colleagues I very much like and respect—should I have done that off camera?"