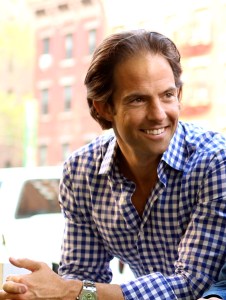 "You're catching me at a crazy time," Michael Shvo said over the phone from his limo last month.
The audacious marketing genius behind such hugely hyped high-end condo projects as Bryant Park Tower and 20 Pine The Collection had just returned to Manhattan after several weeks overseas. While family business took top priority—his father recently passed away in Israel—Mr. Shvo, 35, lately has been rather preoccupied with expanding his presence internationally.
In January, he launched a glitzy promotional campaign for a new $180 million hotel-condo on a private beach on Mexico's Mayan Riveria. He said he's also setting up "a very large Middle East operation" in booming Dubai, among other places worldwide: "We're moving over 50 people out of New York to international offices."
All his globe-trotting comes at a time of great uncertainty surrounding Mr. Shvo's natural habitat, New York's once seemingly impenetrable real estate market, as the era of euphoria that Mr. Shvo embraced quite like no other appears to be ending.
Speculation also surrounds his own high-profile boutique marketing company, Shvo, what with its recent mass exodus of staffers, some openly complaining of an abusive, "draconian" work environment, splashed repeatedly across Page Six.
But Michael Shvo isn't finished in Gotham: "In New York alone, we have four more projects in the works right now."
Rivals are skeptical. "How can you possibly handle everything in New York and then be in Dubai or wherever he says he has his projects?" asked Andrew Gerringer, managing director of the Prudential Douglas Elliman Development Marketing Group. "You can't service your existing clients, get new business and travel the world doing projects over there. Something's got to give."
"the idea really is just to have fun," Mr. Shvo said.
It was May 2007, and he was at a launch party for his latest project, the 21-story Gramercy Yoo condo building, designed by French giant Philippe Starck. The splashy, jam-packed event in the Third Avenue sales office featured performances by burlesque dancers and music by trendy DJ's the MisShapes.
It was the kind of thing Mr. Shvo had become known for in the previous four years—turning four walls, a kitchen and a bathroom into an Event.
"It's really not about another building coming up," he explained then. "There's a lot of other people that do that. We create unique buildings for people, really to elevate design in the city, to elevate the experience for people to come buy apartments.
"I'm told we have over 1,000 people here," boasted the trim, tanned host, dressed in a crisp black suit and white shirt, sans tie. Mr. Shvo has that preternatural look of the eternally young; he appears much the same as he did in his late 20's, when his star rose as a top broker at Douglas Elliman. "A lot of celebrities, a lot of socialites, just a lot of great, great people."
Even the rented port-a-potties were marked "Celebrity."
Amid all the pageantry, there was little indication that this supposedly unique building would include such ubiquitous retailers as CVS and McDonald's. ("It was disclosed in the offering plan," Mr. Shvo noted later.)
Back then, only a brazen party pooper would dare to even utter the words "bubble bursting" in mixed company. Condos were selling briskly (2,344 units closed that second quarter of 2007 alone—the highest number since analysts at Miller Samuel began counting in the late 1980's), often at insanely high prices (average sales price: $1.45 million).
Nobody embodied the boom more than Mr. Shvo.
"If Gordon Gekko stepped out of the 1987 film Wall Street and into today's New York real estate market, he might look like Michael Shvo," said New York Post columnist Steve Cuozzo, when he introduced the marketer during an industry forum on new development at Cooper Union Great Hall in 2006.
Knowing, somewhat nervous laughter rolled through the room.