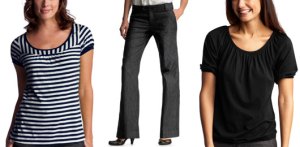 For roughly the past 10 years, I've avoided the Gap. I don't like khaki, the color or the word. Nor do I care for the classic young America look (pressed white shirts, slim jeans) the store seems to trot out each year as if it's new.
This wasn't always the case. At different crucial moments in my life, the Gap has been there for me. In 1989, I got a pair of black pedal pushers there (off the sale rack, for about $9), which I wore folded and rolled up above my knee, like pantaloons. Even better, I wore them over turquoise footless tights and then, on top, threw on an enormous hot pink T-shirt. This was my ninth-grade uniform. And yes, I loved the 80's.
In 1997, when I moved to New York for a 19K-per-year job at a literary agency, the Gap provided my working-girl wardrobe: a black scoop-neck tunic, black wide-leg elastic waist pants, a long (black!) skirt with slits up the sides to the knee and a shorter, at-the-knee black skirt, all made of some kind of microfiber synthetic fabric that wore well (and made me sweat a little, I admit)—sort of the poor woman's Donna Karan. I paid about $150 total for these four easy pieces. If I kept the top clean and washed (by hand, in the sink, with dish soap), I had three different outfits at my disposal. The style was a little droopy for your average 22-year-old, but I thought I looked professional. Everything matched, at least, which was a start.
At 31, I decided it was time to try some designer labels—Marc Jacobs (of course!), Diane von Furstenberg and Ms. Karan's secondary line, DKNY. Nothing too high-end, but a major step up in price and, I thought, quality. I bought three T-shirts from C&C California—$60 apiece. I got some Citizens of Humanity jeans. And a few items—cocktail dress, tank top and T-shirt—from agnes b., arguably the Gap of Gay Paree. I liked having these things, but they left me broke. This year I decided to put some money in the bank and take some vacations. So the other day, I went to the Gap.
The chain might fool you into thinking it's still lame, with the stacks of multihued pastel pants and floral print tops, seeming leftovers from late 90's overstock. The windows are stuffed with preppy cardigans. But apparently the Gap has grown up. As soon as I entered the branch on Fifth Avenue and 17th Street, I saw things everywhere that I'd actually buy: Jersey dresses for a fraction of the cost of those I picked up at Anthropologie last fall; blousy T-shirts for 30 bucks that were actually nicer than one I'd ordered from the designer outlet Bluefly. A cute cotton sailor top for $25 that's every bit as sharp as the $55 agnes b. tank. I got trouser jeans for half the price of a pair of Joe's—and I didn't have to pay to have them hemmed! (Thank you, ankle-length!)
The Gap's "European Collection," designed with the help of Marie-Amelie Sauve, fashion director of French Vogue, really, really makes me feel ashamed for my C&C habit. Pretty smocked tunic tops ($39.50), arty zipper cardigans ($69.50) and simple A-line jumpers ($59.50) are all sophisticated and relatively inexpensive. The Gap also has avant-garde shoe prince Pierre Hardy designing smart (and wearable!) sandals and summer shoes that run $78-$98. So long, Stuart Weitzman, and your $358 peep-toe flats!
It used to be that you couldn't shop at the Gap for fear that everyone under the sun would have the same clothes that you do. But that curse has since moved like across the street to hang, like a puffy cloud, over H&M. So go take a look! You just might fall into—and love with—the Gap all over again, too.