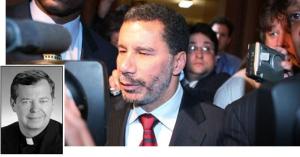 For all David Paterson's considerable charm and wit, his managerial style has been described by Democratic insiders as "jazz government." He is not into discipline. He's no good at firing people. His greatest political talent seems to be being in the right place at the right time.
But always walking one step behind Paterson now is his own éminence grise, Charles O'Byrne, an extremely intelligent, well-connected, tough and reclusive former Jesuit priest who as the governor's chief of staff will be one of the most powerful players in New York government. When the Spitzer governorship fell under the weight of the recent sensational sex scandal, Mr. O'Byrne became the gatekeeper of the new regime in Albany.
In a city of colorful resumes, Mr. O'Byrne's stands out. He abandoned a promising career in law to seek formation as a diocesan Catholic priest and, later, a Jesuit. At times, his chief parishioners seemed to be the Kennedy family, to whom he became a confidant after befriending Stephen Smith Jr., the nephew of President John F. Kennedy, in law school.
But within Jesuit circles, Mr. O'Byrne is the consummate "ambitioning prelate," who left the Order and the church and published a 4,000-word piece in a 2002 issue of Playboy in which he wrote about "the fundamental dishonesty of the church's leadership."
"I became aware that there was sex all around me—including relationships between Jesuits," he wrote. "Seminary life was hypocritical."
That has earned him a good deal of resentment among Jesuits.
"His leaving was not good," one Jesuit priest, who would not allow his name to be used, said. "He left with a certain amount of contentiousness that left a lot of resentment on the part of Jesuits."
Pointing out that the three traditional vows of Jesuits are poverty, chastity and obedience, the priest said: "He was very ambitious, and that ambition sort of goes against our obedience."
And yet it served Cardinal Richelieu just fine.
Born in what is today St. Luke's Hospital in New York, to a father who taught in New York public schools and a mother who worked as a psychologist, Mr. O'Byrne, 48, spent his first years in Manhattan and Staten Island before moving to Oceanport in New Jersey at the age of five. He attended Red Bank high School, off the Navesink River on the Jersey Shore, and after graduating in 1977, he attended Columbia University, earning his degree in 1981.
During college, he took a summer job in the New Jersey Attorney General's office, and at 22, became acting superintendent of elections and acting commissioner of registration in Monmouth County. In 1984 he earned his law degree, also from Columbia, where he and Mr. Smith Jr. became good friends.
His first job out of law school was a corporate litigator for the white-shoe firm Rosenman & Colin, but after four years there, O'Byrne found a different vocation.
He briefly attended Saint John Neumann Residence and Hall, a sort of preparatory school for seminary under the Archdiocese of New York. The school usually acts as a training ground for potential seminarians who lack a college degree or enough philosophical or theological credits. Mr. O'Byrne, who majored in history with a concentration in the medieval and Renaissance periods at Columbia, and whom legislators have known to bring Aristotle into his political vernacular, seemed to have been ready.
Perhaps suspicious of his Ivy League pedigree, the school officials sent him to teach a year in the South Bronx. He did. He wrote about the experience in Playboy.
"During my training I taught at a Catholic girls' high school in the South Bronx," he wrote. "My students were streetwise. They were heroes to me, trying to make something of their lives against unbelievable odds. Most of them were sexually active, by their own accounts. At that time, the rate of HIV infection among babies born at Lincoln Hospital, a stone's throw from the school, was increasing rapidly. I chose to do for my students what the nuns in my school had done for me. I told them that if they were going to have sex, to make sure they did it safely."
Despite, or maybe because of, his teaching in the South Bronx, Mr. O'Byrne was asked to leave the seminary.
In the article, he explained it this way: "I quickly learned some harsh truths. Many of my classmates in the New York archdiocesan system were exceptionally narrow-minded, and some were out-and-out bigots who made offensive remarks about Jews and Hispanics, among others, all the while offering pious phrases about Jesus. I protested, but nothing happened. I protested some more, and then told a friend what was going on. My friend wrote to John Cardinal O'Connor and urged him to investigate what sounded like officially approved hate crimes. With reason to fear a media scandal, the archdiocese pretended to discipline the seminary superior who had coddled the bigots, but in reality it merely shuffled him off to a cushy job. I was expelled from the seminary."
When asked for comment about Mr. O'Byrne's version of these events, Joseph Zwilling, the longtime spokesman for the New York Archdiocese, said: "His description of the people in the Neumann program and the program itself is certainly not consistent with the people I know in the program and the priests who emerged from it."
In any case, Mr. O'Byrne sought a different environment.
In 1989, he attended Saint Andrew Hall, the Jesuit Novitiate in Syracuse, for his primary formation as a Jesuit. Two years later, he followed the traditional path to formation by completing his "First Step" of studies at Loyola in Chicago, which he completed in just one year. For the Regency stage of his vocational education, which is essentially a break from studies to work in the field full time, Mr. O'Byrne accepted the invitation of the president of St. Peter's College to work as an assistant.
"Usually," said one Jesuit priest, "your regency work is teaching in a Catholic high school."
Rev. James Keenan, a pastor at the Nativity Parish on Second Avenue on the Lower East Side, who used to serve on the college's board of trusteess, said he remembered Mr. O'Byrne.
"He was very easygoing," said Fr. Keenan, one of the few Jesuits to describe Mr. O'Byrne as anything other than driven and ambitious. "He was interested in helping kids, he was interested in administration."
Fr. Keenan also remembered his prestigious friends.
"His contacts with the Kennedys go back to his school days," he said.
On the day a jury acquitted Stephen Smith's brother, William Kennedy Smith, of rape in 1991, Mr. O'Byrne, then a seminarian, attended mass with the family and spent the day in the courtroom.
Mr. O'Byrne went on to seminary at the Weston Jesuit School of Theology in Cambridge in 1994, and some Jesuits remember his time there as somewhat confounding. He was clearly brilliant, several Jesuit priests said, and determined and a hard worker. But he seemed to some too eager to please.
"When he was up at Weston, he had the reputation of being part of the orthodoxy police, theologically, making sure the teachers were really teaching the party line and all that stuff," said the Jesuit priest who had characterized Mr. O'Byrne as ambitious. "Charles was seen on that part of the culture wars."
While Mr. O'Byrne seemed to take to the conservatism that swept American Catholicism under Pope John Paul II, he also kept one foot in the secular world. Even as he double-majored in two theological disciplines at Weston, he worked as a popular teaching fellow at Harvard University with Robert Coles, the Pulitzer-prize winning author and child psychiatrist of the series of books "Children of Crisis," and acted as Harvard Law School's chaplain.
After completing his studies, he returned to New York, where he served as a deacon at St. Ignatius Loyola Church in Manhattan and worked towards a PhD at Columbia in American history. In 1996 he married JFK Jr. to Carolyn Bessette in South Carolina.
In 1996 he was ordained a priest. His supposed orthodoxy to the priesthood did not last long. After doing assorted parish work, and then, in 1999, leading mourners in a funeral mass for John F.Kennedy Jr. after he died in a plane crash off Martha's Vineyard, he left the order. He apparently investigated but ultimately decided not to apply for the process of incardination into the New York Archdiocese.
"We do not discuss or confirm or deny matters involving individuals and priests or personnel decisions," said Mr. Zwilling.
Within about five years of his ordination, he had removed his collar and left the priesthood.
"Charles O'Byrne entered the Society of Jesus as a novice in 1989 and took vows of poverty, chastity and obedience as a religious in the Society of Jesus in 1991," said Thomas R. Slon, a Jesuit priest with the New York Province of the Society of Jesus. "He was ordained a Roman Catholic priest in 1996. Having declared his choice to leave active ministry, he received a Decree of Dismissal from the Society of Jesus in 2002.
But the door Mr. O'Byrne slammed behind him – in the form of a tell-all about sex and vice in the church for Playboy magazine — rattled the Jesuit community.
In the Fall of 2002, O'Byrne worked on his memoir, never published and apparently a longer version of the piece that ran in Playboy. A year after leaving the Jesuits, he became an Episcopalian.
After a long hiatus, he returned to politics, joining the Howard Dean campaign in the summer of 2003 as a researcher, policy director and speechwriter.
"There is not a pressure cooker in any walk of life like working on a presidential campaign," said Ethan Geto, who ran Dean's campaign in New York and hired Mr. O'Byrne. "He was extraordinary."
"He was one of the few naturals in politics I have ever met," said Mr. Geto. "That was his first real job in politics. I think his background prepared him in one critical way: Charles is extremely empathetic. He can really put himself in the shoes of another human being, he is very comforting, centered and spiritual. I'm sure that had a lot to do with him having been a priest."
It turned out that not even a former priest could save the Dean campaign, and Mr. O'Byrne was forced to look for work again. He volunteered his time for adult educational programs at St. Bart's in Midtown, and St. Luke's in the West Village. Eventually, he caught wind that Paterson, then in his second year as Senate minority leader, was looking for hires. He joined as a speech writer, and climbed the ranks to become communications director and then deputy chief of staff.
On November 14, 2006, Paterson appointed Mr. O'Byrne his chief of staff in the Lieutenant Governor's office.
And on Monday March 17, when Paterson is sworn in, the new chief of staff to the governor of New York will be close at hand.