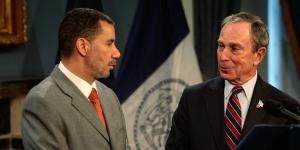 As David Paterson took the oath of office as New York's 55th governor earlier this week, you could almost taste the sense of relief in legislative chambers. Our new governor gave a remarkable, deeply personal and engaging talk and then left to face the challenges of rebuilding the broken machine of state government.
With Wall Street melting down, the economy heading south, and the war in Iraq continuing to drain the nation's treasury and will, Governor Paterson faces a budget gap estimated at $5 billion. Upstate New York has been in a generation-long recession and now those of us in the City wonder if our own remarkably resilient post- 9/11 era will end with a crash.
New York City and New York State have been counted out before, and have demonstrated the capacity to come back. In the mid-1970's, then-Governor Hugh Carey, the city's labor unions and financial industry got together with then President Gerald Ford and figured out a way to dial back our near bankruptcy. Some of us remember the summer of 1977 as immortalized by sportscaster Howard Cosell's famous phrase that "the Bronx is burning" during the Reggie Jackson-dominated World Series.
For many of us, that three-home-run performance by Reggie and the Yankees' series win was the turning point where the city started the long road to recovery. It has been a comeback presided over by all of our recent mayors—starting with Ed Koch, then David Dinkins and then Rudy Guiliani—culminating in the superb mayoralty of Michael Bloomberg. Summer of 1977 was the summer of the Son of Sam, the .44-caliber killer who drove people off the streets at night until he was finally caught. It was the summer of a power blackout that led to over 1,000 fires and nearly 4,000 arrests in two days of rioting. In contrast, the 1965 blackout was known for the number of babies born nine months later and the 2003 blackout was known for the free beer and ice cream given out by the city's store owners and bartenders.
The contrast between 1977 and 2003 charts a remarkable comeback and shows that change is possible and that public-private partnership can really work. New York City still has many more poor and homeless people than we should have, but I don't know too many people who would rather live in the New York City of 1977 then today's city. (Of course, some people really liked disco and those bell bottom pants.)
During hard times we often dispense with frills and luxuries and so the issue for environmentalists is, is the issue of sustainability really seen as a central element of economic growth, or will our hopes for a green New York go down the tubes? The issue of the new governor's record on environmental protection and sustainability is worth raising. He has had a reasonable and progressive record in his two decades as a state senator, but I would argue that his Senate record is relatively meaningless.
The Democrats have been in the minority in the State Senate since the mid-1960's. Given the leader-dominated "three men in a room" style of governance in Albany, Paterson was free to freelance any way he chose in an essentially symbolic Senate seat.
So what can we expect? I think and hope, quite a bit. Governor Paterson was a colleague on the faculty here at Columbia's School of International and Public Affairs. He is a talented and very smart man, with a generous spirit and a sure sense of himself. Like Harry Truman and Gerald Ford before him, he finds himself suddenly placed in a position he didn't expect to be in.
He shows every sign of understanding the challenges he faces. I hope he decides that the entire state needs a sustainability plan like PlaNYC 2030. One place to start is to provide leadership on the issue of congestion in lower New York. Things are so bad, even his predecessor as governor couldn't get to his resignation announcement on time.
Mass transit in New York City is underfunded and overcrowded. Congestion pricing provides a way to reduce surface traffic and fund mass transit. If the state government is going to veto the mayor's plan, they have to develop a plausible alternative. Along with the $5 billion budget gap, the first test of the governor's leadership will be on the key sustainability issue of traffic congestion and mass transit. I hope and trust he will respond to the challenge.
This content was provided for use by The New York Observer, specifically on Observer.com by the scientists and researchers at Columbia University. Any other use of this content without prior authorization from Columbia University and The New York Observer is strictly prohibited.