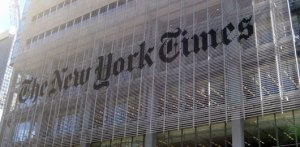 The emerging showdown between Harbinger and Firebrand and the New York Times Company has come to an end. The two parties have reached an agreement where two hedge fund leaders, Scott Galloway and James Kohlberg, will both join the Times Board, increasing the size of directors on the board from 13 to 15 members. The Times reports that it's the first time since the company went public in 1967 that it has accepted board members from outside the company.
Since late December, Harbinger has purchased about a half-billion dollars of Times stock and was making a play for four available seats on the 13-person board. A person familiar with the hedge fund's thinkng said, "I'm not sure if you can say anything to the Times other than You will lose. There will be no thoughtful reason to give up seats."
Rather than fight a war, they've reached this truce. Mr. Galloway and Mr. Kohlberg will both be Class A directors and the board's size will increase from four to five, and the Class B directors will rise from nine to ten. Here's the full release:
The New York Times Company, the Harbinger Capital Partners Funds ("Harbinger") and Firebrand Partners ("Firebrand") announced today that they have reached an agreement under which Scott Galloway, founder of Firebrand, and James Kohlberg, chairman of Kohlberg & Company, will be added to the slate of Class A candidates nominated by the Board for election at the annual meeting of shareholders on April 22, 2008. The size of the Board will be increased from 13 to 15 directors. As a condition to the agreement, Harbinger and Firebrand have agreed to cease their efforts to elect a slate of four nominees to the Times Company's Board of Directors at the 2008 annual meeting.
The other Class A nominees will be Robert E. Denham, Thomas Middelhoff and Doreen A. Toben. William E. Kennard, previously nominated to stand for election by the Class A shareholders, will now stand for election by the Class B shareholders. Harbinger and Firebrand have agreed to vote their Class A shares in favor of the Company's recommended five-person slate.
Chairman Arthur Sulzberger, Jr. said, "We are pleased to have reached an agreement with Harbinger and Firebrand. Both the Board and management welcome the perspectives and insights of our proposed new directors."
Philip A. Falcone, senior managing director of Harbinger, stated, "Our nominees look forward to working with the other directors and management to build and deliver value for all shareholders."