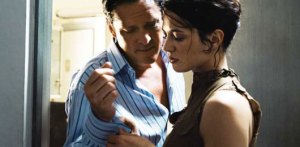 BOARDING GATE
Running Time 106 minutes
Written and directed by Olivier Assayas
Starring Asia Argento, Michael Madsen
Olivier Assayas' Boarding Gate, from his own screenplay, continues his trangressively exotic filmmaking—previously exemplified most vividly in Demonlover (2002) and Irma Vep (1996)—in a disenchanted form of film noir, combining violence, intrigue, eroticism, horror, international financial shenanigans and the more ruthless exercises of capitalistic power. Indeed, Mr. Assayas has fashioned at times an unbearably cold world in which no one can be trusted, and a universal obsession with self-interest rules the roost.
Boarding Gate takes our ex-prostitute heroine, Sandra (Asia Argento, daughter of famed Italian horror film director Dario Argento), from the violent aftermath of an S&M session with her ex-lover and dangerously debt-ridden money launderer, Miles (Michael Madsen), in London, all the way to Hong Kong in search of a promised new life with a local Asian couple, Lester (Carl Ng) and Sue (Kelly Lin). Instead, she finds herself in a mysterious trap in which her best and only friend, Lisa (Joana Preiss), is murdered in the mistaken belief that she was Sandra. I suppose that to Asian mobsters all Western women look alike, to rework an old racist joke about the Chinese.
As Mr. Assayas explains the genesis of this peculiar project in the production notes: "A news brief caught my eye about the murder of French financier Eduard Stern during an S & M session. It seemed like something right out of my film Demonlover. This triggered in my mind the story of a murder involving an ambiguous sexual relationship and the world of modern finance. I also thought about a woman on the run trying to escape the murder and the past. So the first part of the story ended up being centered around the confrontation between a man and a woman, their cat-and-mouse game. I wanted the second part to be about her being desperate and on the move. I knew the first part could take place in any Western city. But the second part had to be Hong Kong. I knew that city well, but I had never filmed there before. I had been dreaming about it a long time … In March 2006, I scouted locations for Boarding Gate, followed by Paris pre-production to start shooting in July 2006. We shot for six weeks, three in and around Paris and three in Hong Kong. The film ended up costing less than 2 million Euros."
Ms. Argento's Sandra is, fittingly for the genre, a completely self-sufficient heroine, as comfortable with and confident in the use of a gun as any male action hero. Her unvarying facial expressions of doubt and distrust serve her well in the ever-treacherous world from which she eventually escapes, but not before she has made a fateful decision not to follow through on a final revenge-seeking murder.
This movie is largely in English and Chinese with English subtitles, though there is little time in this fast-paced thriller for much subtlety and expansiveness in either language. Hence, we never learn much about Sandra's inner life or anyone else's. Mr. Assayas seems obsessed by the workaday world of Hong Kong with its mass insouciance as a crossroads of international, interlingual and interracial commerce and industry, which leaves it little time to pause and notice a desperate European woman running for her life. If this is the effect Mr. Assayas wanted to achieve, he has succeeded admirably.