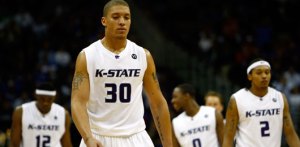 Are you sitting at your desk, panic-stricken now that your boss handed you an NCAA bracket and urged you to join an office pool? Is your knowledge of college basketball less of a Crimson Tide and more like an Akron Zip?
Have no fear: a little knowledge is all you need to succeed at mastering March Madness. Following this outline does not guarantee victory—but it will allow you to love your bracket and defend it to others.
OVERALL STRATEGY
You know the basics—the lower the number next to a team, the better the team is. But there are some rules of thumb to keep in mind. Generally speaking, a 12 seed defeats a 5 seed. Since it is rare for 5 seeds to make the final four anyway, picking all four 12 seeds will provide you with office bragging rights about one of the big early upsets. But beware–do not pick that 12 seed to win it all. No team seeded lower than 11 has ever made the Final Four.
Do not pick a 16 seed because you like the mascot, color, or a family member attended school there. This cannot be stressed highly enough. A 16 has never defeated a 1. Someday it will happen—after all, Georgetown nearly lost to Princeton in 1989. But when it does, you will be at your next job.
Do not pick all favorites, either. That person never wins, yet everyone else in the pool secretly resents them for a failure of imagination. Want your boss to believe you think outside the box? Pick an 11 seed. You won't have to come up with an original idea until April!
Pronunciation Key: Austin Peay = Austin Pee, Gonzaga = Gun-Zah-Guh, Xavier = Zavier. UCLA, UNLV and USC are all acronyms. They are not pronounced "Uck-la", "Un-love" or "Usk."
EAST REGION
North Carolina may be the most talented team in the country, has a legendary coach in Roy Williams, and is looking for revenge after getting upended in the Elite 8 last year.
Notre Dame lives by the three. This also means, however, that they die by the three. Choose them to die early- think of them like the James Dean of the East bracket.
Winthrop is a 13-seed that could surprise. Say you like the backcourt play of Michael Jenkins. Trust me. You would.
Tennessee is coached by a former mascot who wears orange suits. But say you are picking them to upset North Carolina because Chris Lofton is the best scorer in the region. Do not forget this.
MIDWEST REGION
Kansas is the safest one seed to pick against, since they are nearly always a one seed, and nearly always get upset. DO NOT pick them to lose in the first round. That would be ridiculous. But Vanderbilt, the 4 seed, or Clemson, the 5 seed, both could beat Kansas—and you'll be making a gutsy call to boot.
Pick Kansas State, the 11 seed, over USC, the 6 seed, because you like Michael Beasley more than O.J. Mayo. Since both will likely be making the leap to the NBA, these are solid names to memorize, as the Knicks will be drafting one of them. Since Beasley is the better player, assume the Knicks will opt for Mayo.
Saying "the Gonzaga Zags" is too much fun—you will probably get carried away doing so and blow your cover. Pick Georgetown—it is safe. But beware—the 2-seeded Hoyas trademark cheer, "Hoya saxa!", may get you in similar trouble. You like Georgetown because of center Roy Hibbert and their "Princeton offense." If anyone asks you to elaborate, use the phrase "backdoor cuts."
SOUTH REGION
Pittsburgh, the four seed, stands a good chance of upsetting Memphis, the one seed. You wouldn't like the Memphis coach, John Calipari, who looks like an insurance salesman. But what will you be saying? "Memphis didn't play a strong conference schedule." It's cool. They didn't.
Stanford plays Cornell. Do not pick Cornell because it is an Ivy League school. That isn't how it works here. The Ivy League does very poorly in the NCAA tournament. There was this magical moment back in 1996, when Princeton upset the defending champs, UCLA. "Cornell is no Princeton." Practice saying that—it applies here, and someday, you can use it on your kids to improve their grades.
Austin Peay is arguably more dangerous than Gonzaga. Not only is the school name itself fun, but they are the Governors. You will want to practice your British accent all week, while everyone makes fun of you for picking a 15 seed. Go with the two seed, Texas.
WEST REGION
UCLA is the best team. And now you know why—defensive intensity. "I love Kevin Love" sounds like a silly phrase to avoid—but even CBS' Billy Packer has issues with it. (And remember—you have some issues with Billy Packer. If pressed, you think the game might have passed him by. Stay vague. He always does.)
Drake is not the place where they make the delicious coffee cakes! I cannot stress this enough. So while you know you'll be picking Drake to go to the Sweet Sixteen (two victories, lose to UCLA), you'll say it's because of their wins over Iowa and Butler.
Pick against Duke. No one will respect you if you pick Duke, because everybody picks Duke, since Duke is Duke. But Duke showed signs this year of not really being Duke. Your stated concern? "Interior defense." All this means is that their tall guys aren't good.
You're going to hear an inspirational story this week about the Georgia Bulldogs, who had their SEC tournament game postponed by tornado, requiring them to win two elimination games in one day Saturday, then win again Sunday. The plucky bunch is a 14 seed, with more heart than the state of Georgia has peaches.
Pick Xavier. You can say you think the Atlantic 10, Xavier's conference, is underrated. But we both know the real reason—everybody loves a Muskateer.