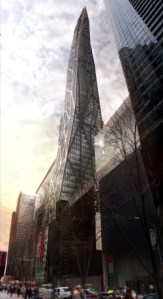 Some West Side Manhattanites might not be too thrilled to hear that French architect Jean Nouvel has won the Pritzker Prize, architecture's highest honor. The award is to be announced today, according to The New York Times.
Mr. Nouvel, 62, has two buildings in New York City: 40 Mercer, a luxury condo building completed last year in Soho; and a proposed 75-story condo and hotel tower slated for 53 West 53rd Street, next-door to the Museum of Modern Art. On March 13, Community Board 5 voted 21-1 to deny the transfer of air rights from two landmarked buildings to the site for the tower. Although the board's vote is only advisory—the Landmarks Preservation Commission, the Bloomberg administration and the City Council are the real players here—it underscores community opposition to Mr. Nouvel's vision as outsized for the area.
Other New Yorkers, however, applaud that vision as in keeping with the city's previously grand attempts at lasting architecture. Here's a comment left by a reader of an earlier Observer story on the community board:
The sheer stupidity of gentrified NIMBY community boards are going to ruin this city.
When I first saw Nouvel's gorgeous tower on curbed.com I thought it was the best thing to happen to Midtown in decades… and now it looks like it won't even happen because certain people can't see beyond their own jealously guarded backyard.
There's also an online petition going that calls for the community board and the city government in general to get out of Mr. Nouvel's way.
Update 10:15
Whoops. As Curbed notes, there is a third Nouvel project in New York right now–the condo at 100 Eleventh Avenue in West Chelsea.