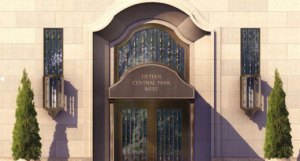 Back in January, we reported that the owner of the upscale travel agency Smart Flyer had bought a $4.86 million condo at 15 Central Park West. Less than two months later, Spanx CEO Sara Blakely and former rapper and Marquis Jet founder Jessie Itzler (a.k.a. 1991 one-hit-wonder Jesse Jaymes), have paid Mr. Holtz $8.5 million for the 14th-floor condo, city records show. After turning a nearly $4 million profit, Mr. Holtz must only be thinking "Spank!"
Mr. Holtz has a history of flipping condos at high-profile developments. He signed the contract for Unit 14K in August 2005, just a few months after he sold his 66th-floor, three-bedroom condo in yet another star-studded building, the Park Imperial, to P. Diddy for almost $4 million.
Mr. Holtz had lived in the Park Imperial for only two years when he decided to move to a second-floor glass-enclosed apartment at the Richard Meier-designed Perry Street towers. Though his real estate portfolio is a little lighter these days now that he's unloaded his property at 15 Central Park West, Mr. Holtz still has three condos at Perry Street.