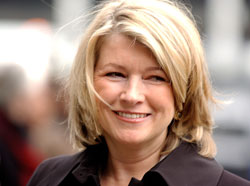 Before Martha Stewart spoke as the honoree of the ninth annual New York Go Red for Women luncheon on Friday, Feb. 29, two other women—comedienne Judy Gold and a stroke survivor named Yvette Fields—offered passionate accounts of life with unhealthy hearts. "Each of my father's two sisters died of heart attacks," Ms. Gold said in her David Sedaris-esque monologue, "which was weird, because it wasn't even clear my Aunt Sylvia had a heart." She also said the word "vagina" once or twice. "Your stories were both heartbreaking and also very amusing," Ms. Stewart said as she ascended to the lectern.
Held at the Waldorf-Astoria hotel, the event was a fund-raiser for an American Heart Association group that works to raise awareness of heart disease and strokes in women. Previous honorees include writer Anna Quindlen, actress Lauren Bacall and another comedienne, Joan Rivers.
Before the meal (chicken on a bed of greens; strawberry trifle), the middle-aged, mostly female guests perused offerings of jewelry, beauty products and personal-trainer sessions at a silent auction. A huge Martha Stewart gift basket sat on one table, laden with books, utensils and VIP show tickets; its dollar value was declared "priceless," but by the end of the viewing period, only one bidder had signed up.
Ms. Stewart herself posed graciously for photos in an adjoining room with organizer Dr. Nieca Goldberg of New York University's Cardiac and Vascular Institute and others, cracking, "I hope I never need you."
The 900-plus-person audience later learned that Ms. Stewart, dressed in a black skirt suit, wanted to wear red but owned only an exercise hoodie in that color.