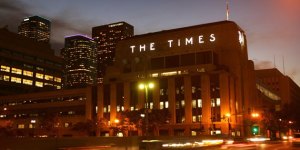 The L.A. Times new editor, Russ Stanton, continues to clean house. MaryKaye Schilling, the print-online hybrid editor brought in to remake the paper's events tabloid, The Guide, is out. Ms. Schilling was a close ally to the paper's recently ousted features editor, John Montorio. Here's the memo:
MaryKaye Schilling, editor of The Guide for print and online, is leaving the paper.
MaryKaye has made a significant contribution to The Times with the creation of the new section and its interactive online partner (now in the testing phase). Together they will provide readers with the best advice on how to spend their leisure time along with comprehensive listings of events and things to do throughout the region.
We wish her well as she returns to New York. Scott Sandell will oversee the print version beginning today until a permanent replacement is named.
–Leo Wolinsky, Associate Editor