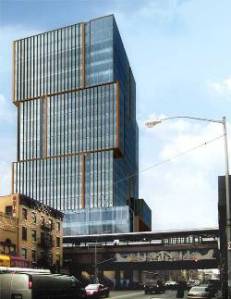 Late last week, we put up a post about how the Bloomberg administration agreed to exempt a Vornado RealtyTrust-owned site in Harlem from a new height limit to be established on 125th Street as part of a rezoning of the area. The City Council is expected to follow suit.
Getting to such a point, where Vornado would build its 600,000-square-foot Harlem Park office tower at Park Avenue about 40 feet higher than the 290-foot height limit, took a bit of wheeling and dealing.
In order to gain the community's nod for the tower, and by association the expected approval of local Councilwoman Inez Dickens, Vornado had to work out an agreement with Community Board 11, pledging to give more than $1 million in concessions.
Community Board 11 chairman Robert Rodriguez said that representatives of Vornado approached the board some months ago to see if the community would approve of the tower's 330-foot height despite the rezoning.
"We rejected that unless there could be a significant community benefit provided," said Mr. Rodriguez, who praised the agreement with the firm.
After weeks of talks, last Friday the community finished up an agreement with Vornado, for which the development firm will put more than $1 million toward maintenance and capital costs of parks and ball fields in Harlem; $50,000 for streetscape improvements; and about $300,000 for a community hiring program. Vornado agreed to meet, and encourage its tenants to meet, hiring targets that include substantial representation from the area, according to Mr. Rodriguez.
"We want to make sure we were positioned to place these Harlem residents in those jobs," Mr. Rodriguez said.
A spokeswoman for Vornado, Roanne Kulakoff, declined to comment.