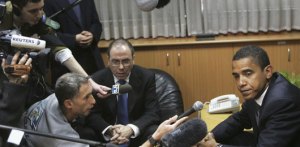 TEL AVIV—As if staring at each other across the front page of the newspaper, the 10-year-old boy bleeding from a Gaza rocket attack looked up into the controversial photo of the Illinois senator wrapped in a white turban.
"A Hillary Clinton Production,'' proclaimed the headline in the tabloid Yediot Ahronot, Israel's top-selling daily paper. "Obama, the Muslim.''
The next day, however, Obama was back on the front page of Yediot, this time declaring, "I'm a friend of Israel,'' in an exclusive interview.
The Democratic primary has captured the attention of the locally focused Israeli media, with Clinton-Obama coverage rivaling the daily violence of the Middle East conflict and a handful of political corruption scandals for airtime. For Israelis, the contest pits Clinton, almost a favorite-daughter candidate, against Obama, the political star whose Middle East positions are less well known and, therefore, more worrisome.
In a country that relies on its alliance with the U.S. as an existential asset, the coming of a new presidential administration will to a large extent determine local agendas—that is, containment of Iran and the tenor of peace talks with the Jewish state's Arab neighbors. While the last two American commanders in chief are remembered for having cozy ties with Israeli prime ministers, Israelis also remember the friction with the administration of George Bush Sr. in the early 1990's.
"I would say that their interest at this point is more personal rather than issue-oriented,'' said Jacob Eilon, the nightly news co-anchor for Israel Channel 10, who was sent to the U.S. to cover the Super Tuesday voting. "It has always been about who is better for Israel. Hillary Clinton is perceived as friendly—Obama is still a mystery.''
Remembering Clinton's visits to Israel during her husband's presidency, and Bill Clinton's words of consolation after the assassination of Prime Minister Yitzhak Rabin, the aura of the Clinton family still strikes deep emotional chords with Israelis.
In the other corner, there's the Illinois wunderkind. In contrast to the popular enthusiasm he's aroused in America, Obama has yet to win over Israelis, many of whom complain they are unfamiliar with his views on the Middle East save for a comment that he'll talk with hostile leaders like Mahmoud Ahmadinejad.
"The enemies of the U.S. are our enemies, you know, like Hamas, Al Qaeda and Iran,'' said Victor Alfassi, a butcher in Tel Aviv's Carmel open-air market. "His dialogue will hurt American interests and the Jewish people.''
In Israeli politics, the color and chaos of the souks are the boilerplate backdrop for a political campaign to show it has the support of the Israeli street. The catcalling stall workers are overwhelmingly of Middle Eastern origin and view politics through the prism of conservatism, class and ethnicity—a mix that has translated into votes for the Likud.
But that doesn't mean that everyone in the souk buys the smear stories about Obama's ties to the Muslim world, or the speculation that he'd favor the Palestinians at Israel's expense.
Examining the newspaper with the picture of the turbaned senator, Yitzhak Lilian said, "He looks like a Sudanese. But I wouldn't disqualify him for what he wears.''
Lilian, 67, who runs a souk shop that sells DVD's, says he believes that the U.S.-Israel alliance is too tight for any one president to drastically change. What does worry him, though, is the Illinois senator's lack of experience. "He's not yet mature enough to lead a superpower that is the leader of the free world," he said. "Look at our experience with Benjamin Netanyahu and Ehud Barak. They were both too young and made rash decisions.''
Gabriel Sheffer, a professor of political science at Hebrew University in Jerusalem, acknowledged that the initial impression of Obama was that he wasn't pro-Israeli.
"But now I think it's changing a little bit,'' said Gabriel Sheffer, a professor of political science at Hebrew University. "Barack Obama is looked upon more positively by more and more journalists. People are looking at him more favorably, and think that he won't be so bad for Israel.''
In recent weeks, Obama has vowed before American Jews and Israelis that he is actually safely within the mainstream of Democratic Party policy on the Israeli-Arab conflict. Sounding like a regurgitation of AIPAC in the interview with Yediot Ahronot, he spoke of an "unshakeable commitment to the security of Israel'' and to the "shared interests, shared values'' and "shared history'' between the two nations.
He's also gotten some key endorsements from American Jewish figures like former California Congressman Mel Levine, who said the Illinois senator insists that Israel remain a Jewish state.
"There was fear of the unknown, but he has said a few things that have ameliorated that,'' said Alon Pinkas, a former Israeli consul general in New York.
Public opinion experts in Israel say that the threat of a nuclear Iran ranks among the top Israeli concerns.
"If there's anything that could rankle Israelis about an Obama presidency, it is the question about whether he would be tough on Iran,'' said Dahlia Scheindlin, an Israeli election pollster. "Iran plays the role of Israel's perennial existential threat.''
And certainly, that's a concern that cuts across political lines in Israel, from the right-wing Likudniks who might be less inclined to support Obama, to the Israeli left, which might be more likely to embrace him.
Ephraim Sneh, a parliament member from the left-wing Labor Party, said that while he isn't concerned about the identity of the winner of the race, Israel hopes the next president of the U.S. will stand up to Iran in the same way that Churchill faced Germany during World War II.
In an interview with the Ha'aretz newspaper, Obama adviser Samantha Power—who has since departed the campaign after calling Hillary Clinton a "monster" in an interview with a Scottish newspaper—said the senator supports a direct meeting with the Iranian president to "increase the chance for mobilizing international sanctions."
Café Tamar on Tel Aviv's trendy Sheinkin Street is famous as a bastion of old Israeli-left bourgeois, where patrons in their 50's and 60's sip cappuccino under posters of former Prime Minister Yitzhak Rabin.
Nava Shrieber, a 60-year-old museum curator, and a friend agreed that Obama's good looks would help him in the election. They also debated whether it's more important to have a female or a black president.
Shreiber, argued for Obama because he represents the outsider, while Hillary Clinton represents the "Ivy League.''
Despite that, Shrieber described Obama as "scary" because of his inexperience in foreign policy. "Especially what he said about Iraq: At first he was squarely behind [the war] and then he faded away. He has charisma, but there's nothing behind it.''
At another table, Roni Mordikovich concurred. Even though Obama represents youth, renewal and the American value that anyone can rise to the top regardless of skin color, he thought his candidacy is a potential problem for Israel.
"We don't know that much about him. We don't have information. We don't know what his attitude toward the Arab world is, or Iran. Clinton, from that perspective, has more experience.''
Back in the Carmel souk, Avner Tzadok said he was amazed at Obama's surge to the front of the Democratic pack. Just like Israelis aren't ready for a prime minister of Middle Eastern Jewish descent, Americans won't be so fast to anoint a black president, said Tzadok, the son of immigrants from Yemen.
"It's like if a Moroccan were elected prime minister. It will take another five or six terms. Israelis are racist people, and so are the Americans. The whites won't agree to make a black their boss.''