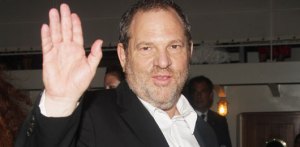 It's the revenge of the nerds! Or the Star Wars geeks anyway. They've unleashed their wrath upon the Weinstein Company for keeping a movie about their brethren, Fanboys, in limbo for the past two years. They've formed a grass-roots boycott of all Weinstein-produced films, organized bicoastal protests at screenings of its Friday opener Superhero Movie, and started a campaign to call Harvey "Darth Weinstein." All this for Fanboys, a movie about four diehard Star Wars fans who break into George Lucas' Skywalker Ranch in order to see The Phantom Menace on the eve of its release. It wrapped production two years ago and has been stuck in limbo as a tug of war between Harvey Weinstein and the filmmakers has been waged over competing versions of the movie. Weinstein said it will release the two versions on DVD, and a studio source later said that is exploring two theatrical versions. Reuters reports:
The latest announcement did nothing to satisfy the filmmakers, who accuse the company of only putting out the announcement in order to sidestep a meltdown at this weekend's box office.
"This is more about avoiding picket lines at 'Superhero' than it was about making a decision about the release of our movie," said Kevin Mann, one of the producers.
Mann — along with producer Matthew Perniciaro, director Kyle Newman and writer Ernie Cline, who originated the story — worked on "Fanboys" in 2003 with Kevin Spacey's Trigger Street production company coming on board in 2005. The cast, including then up-and-comers Jay Baruchel, Kristen Bell, Seth Rogen and Dan Fogler, all signed up for a script that one year made the Blacklist, the annual industry ranking of the top scripts in town. Footage began making the rounds at "Star Wars" festivals, while 40 minutes of "Fanboys"' rough cut was screened at Star Wars Celebration and Comic-Con, where it was enthusiastically received by a standing-room-only crowd last year.
The Weinstein Co. picked up the project in late 2005, and following production slated "Fanboys" for release August 17, 2007. That got pushed back to a January 18 release. Then it went off the grid altogether.