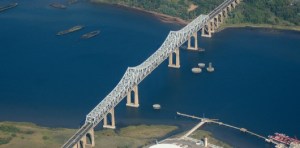 Two days ago I mentioned that the Outerbridge Crossing connecting Staten Island and New Jersey was named after Island native Mary Ewing Outerbridge. But a reader commented that the bridge was actually named for Eugenius H. Outerbridge. He was, according to the Port Authority's Web site (PDF):
… the Port Authority's first Chairman and one of the signers of the compact between New York and New Jersey that created the Port Authority. A Staten Island resident for many years, Eugene Outerbridge was an active champion of the region's interests.
And he was, apparently, the brother of Mary Ewing, a pioneer of lawn tennis. So there.