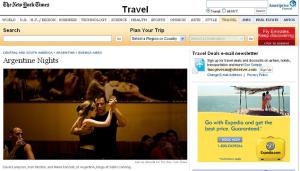 Did a recent Times story borrow from a 14-month-old Newsweek story on the Buenos Aires party scene?
Fishbowl NY, which links to an Argentinan blog which makes the original case, passes no judgment but presents the blog's case.
First, there's some evidence that isn't exactly incriminating: there are a few passages from the Jan. 2007 Newsweek piece that sounds similar, but are not identical to the Times piece. Second, the Times piece, written by a freelance Denny Lee, refers to a series of sources Newsweek used in its piece. One of those sources, Marina Palmer, a person quoted in the 2007 Newsweek piece, appears in the Times piece but apparently moved away months before Denny Lee's piece ran. Ms. Palmer also claims that she never spoke to Lee.
The editor of the Times travel section, Stuart Emmrich, e-mailed us to say, "There was no plagiarism at work."
"There were no fabricated or lifted quotes," he writes. "Every person Denny Lee quoted in the piece was the result of either a phone or face-to-face interview. Marina Palmer, the author of [Tango and Sex], was somebody that several people mentioned to him, as an example of an expat who's made a name for herself. He found her bio on her website and supplemented that description with research he found from other newspaper articles. Nowhere in the article does Denny imply that he interviewed her. Likewise, he mentioned Francis Ford Coppola in his piece (who is shooting a film in BA), but he did not interview him directly."
Instead, Mr. Emmrich argues, the problem with the story was the topic was unoriginal. "I provided a rather lengthy explanation of all this to both Craig Whitney, our assistant managing editor for standards, and Clark Hoyt, the Public Editor, both of whom seem to agree that there was not an issue of plagiarism here, but perhaps, in the words of Hoyt, 'a lack of independent enterprise.'"
When referring to the similarity in language overlaps, Mr. Emmerich wrote: "As for the writing, there are some unfortunate places where the two pieces overlap: "storied film history"; "wine-soaked art galleries" vs. "Champagne-fueled fashion shows." And I don't mean to minimize this issue at all – nor does Denny – but I feel those similarities have more to do with perhaps falling back on the old travel clichés — and of the difficultly of finding new ways to describe a city as being "hot" and "hip" — then a deliberate attempt to copy someone else's language or reporting."
In the email, he writes that he wished he had referenced the Newsweek story, which both he and Denny Lee were familiar with early on in the reporting process. "Perhaps another glance at the Newsweek article before we went to print would have raised some red flags, but by that point, I had all but forgotten that piece. (Indeed, if I had read it again, I would never had written the display type I did: "Drawn by low prices and Paris-like elegance, expat artists, designers and musicians are transforming Buenos Aires into a throbbing hot house of cool." It's almost exactly what the Newsweek piece said."
He said that the paper isn't taking the issue lightly at all, but it's largely a failure in the story topic, not an ethical breach. "Again, I agree that we could have dug harder but I do think the similarity between the two pieces is largely one of coincidence and the apparent unoriginality of our idea."