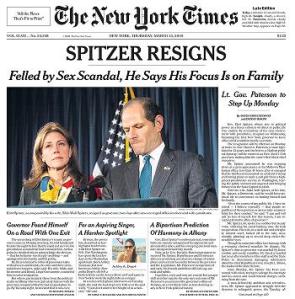 Michael Powell and Nicholas Confessore have the exegesis in the Times today that explains a bit of the reporting behind the paper's major break on the Eliot Spitzer story on Monday, along with a behind-the-scenes look at his life for the last six days.
Powell and Confessore write that reporters at the paper were reviewing a fairly run-of-the mill federal case against four people involved with a prostitution ring presented by the Manhattan U.S. Attorney last Thursday when they "learned of the unusual presence of three lawyers from the corruption unit, including the boss of that division and an F.B.I. agent from one of the bureau's public corruption squads. The public corruption units often look at the conduct of elected officials." Sources told the Observer that it was courts reporter William Rashbaum who secured the early tip–in this case, it appears information about the lawyers who were working the case–and was the lead in the earliest part of the paper's investigation.
By the end of the day Friday, as the Observer reported yesterday, the Times was confident that the elected official was Eliot Spitzer. By Saturday, the paper had a reporter camped outside Mr. Spitzer's home to see if he was meeting with senior aides. By Sunday, the paper emailed the governor's spokeswoman asking for "the governor's travel records for the week of Feb. 11, 2008, specifically Feb. 11 through Feb. 15. The message also requested the names of all the hotels he stayed at, where he traveled, flight records and any available records of receipts billed to the state."
The spokeswoman, Christine Anderson, presumed it was a story about the governor's on-going entanglement with Joe Bruno. It was that night that Spitzer–who was informed on Friday by investigators that he was wiretapped–fessed up. Powell and Confessore write:
Late that night, the governor told his wife, Mr. Baum and his friend, Lloyd Constantine, an almost incomprehensible tale: He was a client of a high-priced prostitution ring; he had been caught on a federal wiretap; The Times had requested records for the date of an alleged tryst with a prostitute in Washington.
The atmosphere was alternately charged and funereal. Mrs. Spitzer and Mr. Constantine, the governor's senior adviser, counseled hanging tough. The governor, though, seemed convinced that he was finished.
The entire article also provides some lively anecdotes about Spitzer–including a run-down of what he did over the weekend, like taking jogs around Central Park–that make it a must read.