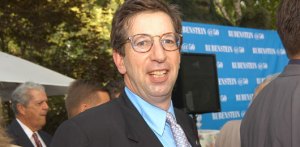 The debate over a proposed new hospital complex for St. Vincent Catholic Medical Centers and the accompanying development of apartments and townhouses is heating up as the plan goes before the city's Landmarks Preservation Commission for a hearing on Tuesday.
At the center is real estate developer William Rudin, also chairman of the Association for a Better New York, who wants to build the largest residential housing development that the notoriously development-adverse Greenwich Village community has seen in decades. Mr. Rudin and his Rudin Management Co. are key to the project, as St. Vincent's would sell him its existing site and use the proceeds to help build an $800 million hospital across the street.
More than anything else, Mr. Rudin faces history in the Village—both in the neighborhood's historic-district restrictions and in its tendency to mount successful opposition campaigns and stop developments it dislikes. Even the ever powerful Robert Moses was handed a major defeat in the Village, which crushed his plans to build a highway through the area.
"Building in New York City is difficult—that's a given," Mr. Rudin said. "In the Village, we think that there's obviously a lot of people who are passionate about their community and feel very strongly about the historic nature."
Rudin Management Co. would pay St. Vincent's $310 million for the current site, which would be demolished to make way for the main building of the over 600,000-square-foot development, which tops off at 265 feet. That would make it one of the higher structures in the neighborhood. The hospital would build a new facility across the street that reaches 321 feet, a height that preservationists have opposed.
Preservationists, who have submitted an alternative plan that the hospital has dismissed as unfeasible, say both the Pei Cobb Freed & Partners-designed hospital and the FXFowle-designed residential development are far too out of scale for the historic neighborhood.
"Really, what Rudin is proposing to do wouldn't even get a second glance were it not for the fact that he's attached himself to this hospital," said Andrew Berman, executive director of the Greenwich Village Society for Historic Preservation.
Mr. Berman, whose powerful society has put opposing the hospital project as presented at the top of its agenda, said that the neighborhood has seen some new development in recent years. He also said the area has a strong track record of defeating large projects.
"You'd have a highway going through Washington Square Park, you'd have a highway going through the south Village and Soho; you'd have the entire West Village demolished for slum clearance," Mr. Berman said of a Village without preservation movements.
Mr. Rudin, who noted that over 3,000 people have joined a group supporting a new St. Vincent's, defended his plan as architecturally respectful of the neighborhood, and tried to dampen allegations that he was going to make a killing on the deal.
"Look what's happened in the economy," Mr. Rudin said. "Everybody thinks we're going to make all this money. The reality is, who knows what's going to happen? We're taking a huge risk."