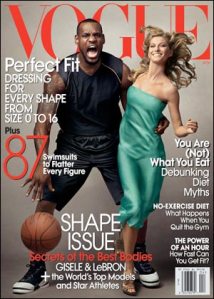 So there's LeBron James, arm wrapped around Gisele Bundchen, dribbling a basketball and busting into a howl on the cover of the new Vogue.
The Today Show wondered if it was racist and the AP found a magazine analyst to say he's King Kong to Gisele's damsel in distress.
WWD's Stephanie Smith made a round of calls to get some more opinions.
Roy Johnson, editor of Men's Fitness, said that while the appearance of a black man on the cover of Vogue was an encouraging sign, "we have very far to go to continue to educate people within our industry regarding the power of images."
Emil Wilbekin, editor in chief of Giant, said virtually the same thing; a "step forward" but a little one: the delivery was "a little" disappointing. He said the image didn't fit James' personality—he's a nice guy, not a goon.
The spokesman for the National Association for the Advancement of Colored People said, "In some ways, it's obvious that Kong poster type image is there." In the piece, Ms. Smith also brings up the Jennifer Hudson Vogue cover from last year, over which the actress was splayed with her "mouth open, baring heavy cleavage."
It was all pretty measured stuff; Mr. Wilbekin criticized the Hudson cover, but was careful to say that "mainstream magazines" in general have the problem.