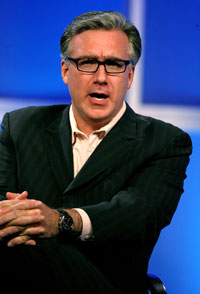 This morning, Page Six reported that Keith Olbermann's 24-year-old girlfriend, Katy Tur, had just landed a news anchor job on CW11, despite minimal journalism qualifications. How did Ms. Tur—the daughter of legendary Los Angeles helicopter reporter Bob Tur—land such a lofty job at such a tender age? The Post reported that Ms. Tur had gotten the position "allegedly with [Mr. Olbermann's] help."
But as it turns out, Ms. Tur hasn't landed a news anchor job at all.
The Media Mob caught up with a CW11 spokesperson Jessica Bellucci this morning. According to Ms. Bellucci, Ms. Tur joined the station several weeks ago as a "freelance reporter," working on general assignment.
"She got the job on her own merit," said Ms. Bellucci.