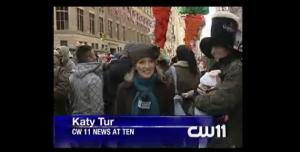 Last week, we reported that Katy Tur, daughter of legendary chopper reporter Bob Tur and current paramour of MSNBC anchor Keith Olbermann, had landed a freelance general assignment reporting gig with CW11.
Her addition to the CW11 team came amid some speculation about her qualifications for the job. All of which left us wondering what type of stories Ms. Tur would be reporting on.
Recently, CW11 posted a clip on its Web site featuring Ms. Tur on one of her early assignments. It's called "Easter Fun in the City."
Therein, Ms. Tur traverses the city on Easter, interviewing churchgoers outside St. Patrick's Cathedral and kids at the children's hat parade on Fifth Avenue.
"Easter bonnets in all shapes and sizes from bunny chandeliers to precariously perched gardens to mere baskets tied to your head with string," reported Ms. Tur. "At the annual children's hat parade, young and old come out to show off their wit."
Along the way, Ms. Tur shows off a style of reporting that is a touch more earnest than that of Mr. Olbermann. No "World's Worst Person" nominations here! For the most part, she remains off camera. But roughly 53 seconds into the clip, we get a brief glimpse of the notoriously under-photographed blonde cub reporter, who flashes a bright smile at the camera.
Our favorite bit comes towards the end, when Ms. Tur asks the young girl in the pink hat, "Have you ever seen an Easter Bunny on ice skates before?"