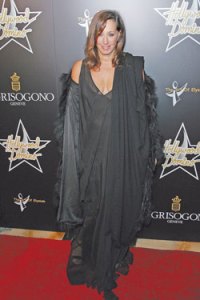 In the middle of a trunk show held Saturday at her Madison Avenue store, Donna Karan peered at the half-eaten mini-cupcake that her 4-year-old granddaughter, Stefania, had just pressed into her palm.
"Why don't you like it?" Ms. Karan asked. "I have never seen you give a cupcake away." Stefania, who was wearing a satin fuchsia dress by children's wear designer Bonnie Young, the host of the event, shook her head and ran off to play.
Ms. Karan returned to her original conversation topic: sex trafficking of children. She was thrilled that so many parents and kids had turned out to buy Ms. Young's clothes, the proceeds of which were being donated to Ecpat USA, a nonprofit which combats the sexual exploitation of children.
Despite the less-than-cheery cause, the party-slash-shopfest was lively. Little girls in party dresses and the occasional boy sat around munching on grilled-cheese squares as they scribbled in custom-designed coloring books featuring sketches of Ms. Young's collection.
Meanwhile, organizers tactfully distributed materials about Ecpat. "It's kind of a little heavy to talk about, so we're just handing them out," an intern confessed of some bookmarks that read, "Protect every child's right to be free from prostitution, pornography and trafficking."
Ms. Young was touting slightly milder variations of the message on $48 white ribbed tank tops, which had graffiti-style messages such as "Make toys not bombs."
Stylist Jackie Astier inspected several of the children; their parents had evidently decked them out in Ms. Young's designs.
"See all those girls there wearing the cute little whole get-up?" Ms. Astier said. "Mine won't do that." Colette, 8, and Manon, 6, are in what Ms. Astier describes as "a comfy phase."
All wasn't lost, though. Colette donned one of the tank tops. Manon and her friend, Hermes heiress Clea Guerrand-Hermes, hurdled over a velvet couch to show their mothers the bikinis, beach cover-ups and bright yellow cashmere loungewear they had picked out.
"These are a good deal!" Ms. Astier said, fingering a $115 shrug.
The girls scampered off to find Ms. Young, who led them upstairs to the dressing rooms.