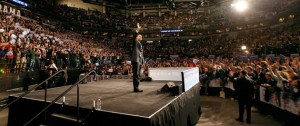 Senator Amy Klobuchar of Minnesota officially endorsed Barack Obama in a conference call just now.
"I am pleased today to announce my support today for Barack Obama for president," said Klobuchar, saying that he was a "new kind of leader" who could "dissolve the hard vinegar edge" of politics.
Saying that Obama won the Minnesota caucuses by an an overwhelming 66 percent to 32 percent margin, Klobuchar said that her decision reflected that result, but also "my own independent judgment about his abilities."
She explicitly did not call for an end to the race, saying she appreciated the competitiveness of the contest, and added, "I for one hope that it will continue to be so through the primaries." She also said, "So far this spirited contest has been good for the party."
Nevertheless, with some cognitive dissonance, Klobuchar said it was difficult to stay uncommitted because "I feel as though I have an obligation to bring the party together."