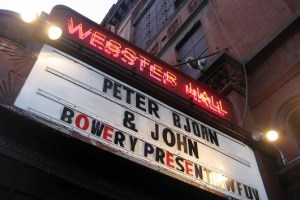 The Landmarks Preservation Commission is gearing up for a busy (and possibly contentious) public meeting on Tuesday, with proposals on the agenda to designate as many as six landmarks and historic districts, and to hear comments on several more possibilities.
The proposed designations include Webster Hall. The Greenwich Village Society for Historic Preservation has pushed for the 1887 banquet hall-cum-music venue to get protective status, much to the dismay of Webster Hall's owner Unity Gallega, The New York Times reported. The Times quoted Lisi de Bourbon, a spokeswoman for the Landmarks Commission, who said that the company had opposed designation at last October's hearing.
Another item up for designation after over a decade of community lobbying is the Fiske-Terrace Midwood Park Historic District. Last Oct. 12, blocks of the adjacent Brooklyn neighborhoods—bounded by Foster and Ocean avenues, Avenue H and the subway tracks of the B and Q trains—moved one step closer to designation when the LPC held a long-awaited public hearing.
Probably the most controversial item of all will be a hearing on the extension of the NoHo Historic District. NoHo first got protective status in 1999, and a separate NoHo East parcel was designated in 2003. But a core section of the neighborhood recommended for protection–running from East 4th Street to Bond Street and Bowery to Lafayette–has been excluded.
NoHo is one of the Historic District Council's "neighborhoods at risk" and one of the six suffering from what they call an "under-designation" dilemma, meaning the "boundaries were too narrowly and arbitrarily drawn to provide full protection for the traditional neighborhoods."
Even if the March 18 hearing goes well, the proposed extension of the NoHo district over Bond, Great Jones, and East 4th streets between Lafayette and Bowery has a final vote hurdle before the LPC gives it protective status. And then it needs to pass the City Council.