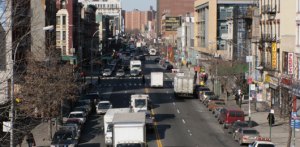 The Landmarks Preservation Commission unanimously voted to hold hearings on a pair of New York Public Library branches in Harlem, putting them on track toward landmark designation. The move is presumably aimed at placating critics who have faulted the LPC for neglecting Harlem ahead of the anticipated rezoning of 125th Street.
Harlem historian Michael Henry Adams called the LPC's decision a "cynical gesture" made in light of the rezoning plan that the City Planning Commission approved last week. "Those two public libraries have been selected so the LPC can say that they've designated buildings on 125th streets," Mr. Adams said. "But they've arbitrarily chosen two buildings that have no historical significance and are uncontroversial because they are state-owned. These are token gestures to make it seem like they are sensitive to community."
Of the approximately 20,000 protected buildings in Manhattan, only five are on 125th Street, Mr. Adams said. He said the community has recommended a host of other buildings on 125th for preservation, including the Victoria Theater, the Germania Bank Building, and the Blumstein's.