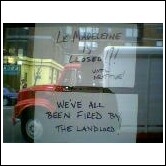 "The irony – business is very strong. Strongest ever!" said Toney Edwards.

When The Observer passed by Mr. Edwards's embattled Le Madeleine bistro on West 43rd Street last week, the joint was packed.
This week? Tumbleweeds. Another French bistro bites the dust. This reporter feels bad for both Mr. Edwards and his beloved ficus tree.
Evicted after a three-year court battle with landlord Mark Scharfman, Mr. Edwards has vowed to carry on: "We have located a possible place to move everyone and open up again within a very short time."