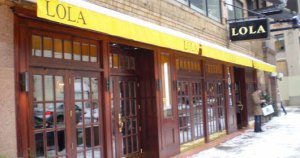 Embattled Soho restaurant Lola will just have to make do without live music, the State Liquor Authority informed the eatery's owners on Thursday.
Proprietors Tom and Gayle Patrick-Odeen have said that their business—which has been the subject of a nasty, three-and-a-half-year legal dispute with neighbors, who have protested the place's right to sell booze—is "struggling" without live performances.
The couple recently told The Villager that they were "hanging on by a thread."
Live music had been a staple of the drinking and dining experience at the couple's prior location on West 22nd Street. But upon moving to the corner of Watts and Thompson streets, the duo initially applied to play background music only.
The owners insist that this was a clerical error and that the application was later "orally amended" by the SLA.
But the neighborhood Soho Alliance, which has twice sued to overturn the restaurant's liquor license, alleged that the Patrick-Odeens had attempted to deceive regulators and the community on the music issue.
Over the course of the legal wrangling, the entire composition of the entire liquor board changed and any alleged verbal agreement apparently got lost in the process.
The couple recently returned to the current SLA to request that live music be reinstated. An SLA spokesman said the board officially rejected that motion on Thursday.
UPDATE: Ms. Patrick-Odeen told The Observer via e-mail: "We're disappointed but resolute. We're actively considering our next move from a variety of possibilities. Only one thing is certain—this is not the end of this matter."