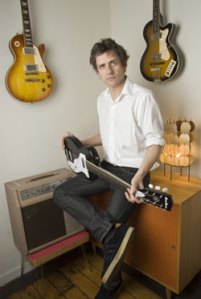 As a steady rain soaked the village this past weekend, Dean Wareham ambled down Avenue A, umbrella aloft, a slight bounce in his step, and watched the cabs race down the street. He wondered aloud whether his roof would spring a leak under the rain, and lamented his landlord's decision to raise the rent by several hundred dollars a few months back. He and his wife have been thinking about moving to Brooklyn, he said, but they don't know if the rents in Williamsburg will really save them any money. (Williamsburg is the new old East Village, right?) Plus his son lives close by, with his mother, and he likes being near them. "How are the rents where you live?" he asked.
Pretty typical New York stuff, and aside from the hint of a New Zealand accent in his voice, Mr. Wareham looks like a pretty typical 40-something New Yorker, clad in a blue raincoat, slim jeans and sneakers, his graying hair carrying a choppy hint of hipness and his face clinging to youth despite a few creases creeping in around the eyes. If he were pushing a stroller, he'd fit in with the other crazy hair dads dominating downtown. In other words, Mr. Wareham is not exactly what you envision when you think about a New York rock god, yet that's kind of what his is.
As singer and guitarist in dreamy band Galaxie 500, dreamy yet jammy Luna, and these days dreamy/loungey Dean & Britta (with his pretty bass-playing wife, Britta Phillips), Mr. Wareham has been an emissary of New York to the world of indie rock for almost 20 years.
Now we have a chronicle of that career in Mr. Wareham's new memoir, Black Postcards, which is out today from Penguin Press. (Mr. Wareham's book appears in the Penguin catalog alongside the likes of Samantha Power, Errol Morris and Jeffrey Sachs, in case you doubt his importance.) The book details both Mr. Wareham's leading role in the story of indie music through the 90s (which history may show to be the genre's most important and interesting decade) as well as the thanklessness of making a career out of being a star in a, well, indie scene. If he appears as little more than a face in the crowd walking his city's streets, his book seeks to at least lay a record of a life spent feeling that way, even while playing to cheering fans all over the world.
Mr. Wareham first moved to the city with his family when he was 14. That was in 1977, an auspicious time for a budding rock fan to arrive here.
"My musical awakening came in New York during the punk and new wave years," he explained between bites of a relish-laden frank at Crif Dog on St. Marks. "There was a scene here, a real scene. I tend to think that Luna could have been from anywhere, but other people would say that we could only have come from here. I do think you could draw a line backwards in time to a community that I was a part of, at the most exciting period in New York rock history." It's hard not to envy a youth spent lying his way into The Mudd Club and CBGB, seeing the Clash and P.i.L at the Palladium, and any number of other crucial bands in crucial places. And it's easy to see why a kid immersed in that scene would decide to pick up a guitar himself. At the same time, it's tough to see the direct line between punk and the music Wareham has made, though the moody urbanity of Television, Suicide and proto-punks the Velvet Underground is certainly all there.
Yet, rather than a chronicle of rock's ragged glory, Black Postcards is, in many ways, a kind of lament on the more mundane realities most career musicians face, as well as the empty indirection of a life spent touring the world, bouncing from city to city, and coming home without even having made much money. So much for the rock and roll fantasy!
Across the street from Crif Dog in the back of musty St. Dymphna's, Mr. Wareham sipped his Stella Artois and justified this thankless road tripping. "You actually ensure that a bunch of other people get a paycheck," he said with a wry smile, "the sound guy, the people at the club. But then again, if you don't tour, you don't exist." Yet when asked if putting on those shows, getting out those songs, performing to fans was worth it no matter the paycheck, Mr. Wareham couldn't say it was.
The title, Black Postcards, comes from a song of the same name, a song in which Mr. Wareham sings "I'm tired of having no future," and while he admitted that might be misleadingly bleak, he also didn't deny that it reflected his career exhaustion pretty well. He considered the writing process a "therapy session," yet if such therapy was in the service of becoming okay with the trajectory of his career, it also seems to be an exercise in self-justification. With little wealth to show for his van-based grind, Mr. Wareham seems to have needed something tangible to justify the stress of his indie rock life.
"There's stupidity and humor of being in a band. So much of the stuff from something like Spinal Tap. I mean it's true! It's easy when you're 22 to organize your life around a band," Mr. Wareham continued, "but not when you're 42." Some of the most frank portions of the book relate the disintegration of Mr. Wareham's marriage, and his long-time affair with Ms. Phillips, who at the time happened to be his band's bassist, thereby finally fusing the professional and the personal, and also fusing the headaches of both into one huge disaster.
"I want to pull back the curtain, show the boredom, the pettiness, the arguments," Mr. Wareham said of his book. As Black Postcards rolls on, documenting the dissolution of Galaxie 500, Luna's inception, endless tours, recording sessions, and the vicissitudes of his personal life, Mr. Wareham also takes out time to reassess disputes, lay judgment on various bands (he always hated the Pixies! But Fugazi is pretty cool!), and even respond to, after quoting at length, several reviews of his albums.
These responses go both ways, like the band appraisals, sometimes using the good reviews as proof of artistic validity: "Something was going on. People liked Galaxie 500," or dismissing negative criticism with blasé comebacks like "There is no pleasing some people." Mr. Wareham seems to want to be on the right side of history, and that means casting some stones, as he does at also-rans 16 Horsepower. "I didn't know them personally, but I didn't like their music or their instruments or their porkpie hats." Mr. Wareham got mad, and now he's getting even, though in person he seems to harbor none of the venom that creeps into the book. Perhaps it's like Email. When they feel concealed, people feel free to say the worst things they want to say.