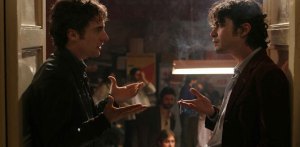 MY BROTHER IS AN ONLY CHILD
Running time 100 minutes
Written by Sandro Petralia, Stefano Fulli and Daniele Luchetti
Directed by Daniele Luchetti
Starring Riccardo Scamarcio, Elio Germano, Diane Fleri
Daniele Luchetti's My Brother Is an Only Child, from a screenplay (in Italian with English subtitles) by Sandro Petraglia, Stefano Rulli and Mr. Luchetti, is based on Antonio Pennacchi's novel Il Fasciocomunista, the title of which explains almost everything in the narrative.
Two brothers, Accio (Elio Germano) and Manrico (Riccardo Scamarcio), set out to change the world, the elder Manrico from the left or Communist side and the younger, rebellious Accio from the right or fascist side. Out of the fraternal rift, a portrait of ever-warring factions in the 60's and the 70's, emerges a very conscious homage to that period's political film classics such as Before the Revolution, Fist in the Pocket and China Is Near, from the early careers of Bernardo Bertolucci and Marco Bellocchio.
One cannot help wondering if Italy today is any freer of factional divisions than it was 30 or 40 years ago. Mr. Luchetti does not really take a stand on this issue; instead he evades it with this statement of purpose: "My Brother Is an Only Child is not a political film, but rather it is a film where human beings talk about politics. The film does not take a political stand; it talks about people who take stands."
Anyway, the film begins during the Cuban Missile Crisis, when Accio is only 12 years old and played by Vittorio Emanuele Propizio. His older brother, Manrico, is already a driving force in the local Communist Party, which was a much more significant force in Italian politics after the end of World War II than it ever was in the United States. The stormy sibling rivalry continues well into Accio's adulthood. Both brothers fall in love with the same woman, Francesca (Diane Fleri), but deep down Accio loves his brother too much ever to betray him, and Manrico fully reciprocates this love. The difference between the two brothers is that Accio soon outgrows his extremist politics, and Manrico doesn't, with fatal results.
The acting is all first-rate, and the local ambience is well rendered. At a time in American politics when the right and the left are at such bewildering cross-purposes in their ping-pong games with the media, and presidential politics have become a witch's brew, it is almost a relief to find some ideological clarity in a film that unfortunately ends in complete political disillusionment on all sides.