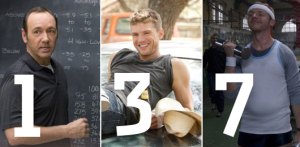 It's been a decade since Rounders, the last (and perhaps only) good film dedicated exclusively to card-playing. And while this weekend's box office winner, 21 (no. 1), doesn't take over that mantle, it does raise the question why Hollywood hasn't made this their bailiwick more often. Card-playing is always the bridesmaid, never the bride, good for a bit part, to add a little sense of danger and intrigue, but rarely the star of the film—it's the Gary Oldman of movie themes. Despite being universally panned, 21 averaged over $47,000 on nine screens, grossing over $23 million nationally. That doesn't sound like a gamble—that sounds like a sure bet.
And isn't that the modus operandi of Hollywood in the spring? Making critic-proof fare that appeals unabashedly to its core audience? It's cheap. It's easy. Marketing it is a cinch. And when it works like 21, it can make you a lot of money. Unfortunately for the studios, it doesn't always work out that way. Superhero Movie (no. 2), another in an irritating line of Airplane knock-offs, bombed, grossing just south of $10 million. And David Schwimmer's directorial debut, the comedy Run Fatboy Run (no. 7), starring the immensely likeable Simon Pegg, did remarkably worse, averaging less than $10,000 at eight theaters in the city and grossing only $2,400,000 at theaters nationally.
It only goes to show that there's no formula for success. Director Kimberly Peirce can attest to that. It's been nine years since an audience has seen anything new from the Boys Don't Cry director, and it comes in the hunky form of Stop-Loss (no. 3), an exploration of the Bush Administration's policy of sending soldiers back for multiple tours after their contracts have been fulfilled. Even though it took the third spot, overall the movie did poorly, almost guaranteeing a speedy drop from the box office charts. Unfortunately for Ms. Peirce, she seems to have followed the wrong kind of formula, a formula which lately guarantees failure—making a movie about the Iraq War.
List of theaters: Paris, Zeigfeld, Oprheum, East 85th St., 86th St. East, 84th St., Lincoln Plaza, 62nd and Broadway, Lincoln Square, Magic Johnson, 72nd St East, Cinemas 1, 2 &3rd Ave, 64th and 2nd , Imaginasian, Manhattan Twin, First and 62nd St., Angelika Film Center, Quad, IFC Center, Film Forum, Village East, Village Seven, Cinema Village, Union Square, Essex, Battery Park 11, Sunshine, 34th Street, Empire, E-Walk, Chelsea, 19th Street East, and Kips Bay.
Manhattan Weekend Box Office: How moviegoers in the multiplexes of middle America choose to spend their ten-spot is probably a big deal in Hollywood. But here in Manhattan, the hottest movies aren't always the ones making the big bucks nationwide. Using Nielsen numbers for Manhattan theaters alone and comparing them to the performance of the national weekend box office can tell you a lot about our Blue State sensibilities. Or nothing at all! Each Monday afternoon, we will bring you the results.