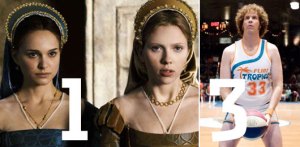 In a turn of a events that will not help our fair city's reputation as bookish and snobby, The Other Boleyn Girl (no. 1), based on the best-selling tome of the same name, handily beat out the Will Ferrell comedy Semi-Pro (no. 3), despite playing at two fewer theaters. Nationally, however, Boleyn's buxom stars, Scarlett Johansson and Natalie Portman, and their shana punims were no match for the near-ubiquitous ad campaign for Semi-Pro, with Ferrell appearing in everything from Old Spice commercials to ESPN's Sportscenter, counting down the top ten sports hair-dos. The comedy captured the top spot, while the drama ranked fourth behind Vantage Point (no. 2) and The Spiderwick Chronicles.
For the second week in a row, a famed comedian has felt the harsh sting of apathy; there are just not that many people going to movies. Last week, Be Kind Rewind (no. 7), featuring Jack Black, failed to help many to overcome their Seasonal Affective Disorder. Semi-Pro only managed to gross roughly $15 million on 3,100 screens (incidentally, nearly three times as many as Boleyn). While nearly triple the gross of the Michel Gondry comedy, it averaged roughly the same, with $20,000 at 10 theaters. Sure, everyone's getting tired of the chilly weather, but can't anyone take a joke?
Well, maybe it has less to do with senses of humor, than with dreams of enjoying a fireside romp with Ms. Johansson or Eric Bana (still in full costume and with role play, of course). The steamy scene, prominently displayed in the film's trailer, must have had something to do with its strong $36,000 average. Talk about hot flashes!
No Country for Old Men, winner of the best picture Oscar (for those of who live under a rock), experienced the vaunted bump, maintaining an above-$100,000 gross, while expanding onto 11 screens, here in the city. It easily leapfrogged over Juno (no. 6) and There Will Be Blood (no. 9), which experienced a rather steep 43 percent decline after failing to beat out No Country. It must be done drinking America's milkshake.
List of theaters: Paris, Zeigfeld, Oprheum, East 85th St., 86th St. East, 84th St., Lincoln Plaza, 62nd and Broadway, Lincoln Square, Magic Johnson, 72nd St East, Cinemas 1, 2 &3rd Ave, 64th and 2nd , Imaginasian, Manhattan Twin, First and 62nd St., Angelika Film Center, Quad, IFC Center, Film Forum, Village East, Village Seven, Cinema Village, Union Square, Essex, Battery Park 11, Sunshine, 34th Street, Empire, E-Walk, Chelsea, 19th Street East, and Kips Bay.
Manhattan Weekend Box Office: How moviegoers in the multiplexes of middle America choose to spend their ten-spot is probably a big deal in Hollywood. But here in Manhattan, the hottest movies aren't always the ones making the big bucks nationwide. Using Nielsen numbers for Manhattan theaters alone and comparing them to the performance of the national weekend box office can tell you a lot about our Blue State sensibilities. Or nothing at all! Each Monday afternoon, we will bring you the results.