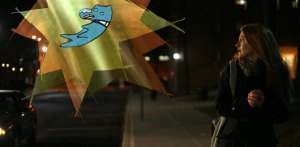 Before the lights went down at the premiere of her first full-length animation film The Toe Tactic at Austin's South by Southwest Music Festival a couple of weeks ago, director Emily Hubley said to the audience: "Don't worry if you don't get it all, just feel it all." But she didn't expect such an emotional response from the first-time viewers. "I felt a little bad because people were so weepy," Ms. Hubley told The Observer in a phone interview from her home in Maplewood, N.J. "The conversation [after the SXSW screening] was just all about the healing properties of art and making art. It really was a gift that it wasn't just empty kudos, that it was really infused with people's intense personal responses."
Ms. Hubley, 50, a well-respected animation filmmaker who has been producing shorts and documentary inserts for more than 30 years, hopes The Toe Tactic will garner similar heartfelt responses at its New York premiere at MoMA/Lincoln Center's New Directors/New Films Festival on March 29. The whimsical drama combines animation and real-life action to tell the story about Mona Peek (played by Lily Rabe, currently in Kathleen Turner's stage production of Crimes of the Heart), who is finally coming to terms with her father's death and hunting for her lost wallet among New York City's tragic wonderland of loners, animated objects and a songwriting Elevator Man. A quintet of animated, shape-shifting dogs recite poems and serve as a kind of Greek chorus for Mona. They were voiced by Eli Wallach, David Cross, Marian Seldes and jazz musician Don Byron.
Originally, there wasn't going to be any animation at all in the film. But Ms. Hubley hand-drew the dogs (with some help from animator Jeremiah Dickey) to help shepherd the short poems about love, life and mortality into the movie. "At the beginning [of the process] the dogs are just a joke, but then they nosed their way into the rest of the story," she said. "Poetry is one thing that is very hard to put into movies. … I just thought that the only way to keep it fun, or keep people from glazing over, or I guess to keep it from being too self-loving, would be turning it into something else completely."
All together, the result is a highly emotional fable. "I want [the audience] to feel full when they walk away," she said. "It's really about personal art; it's not a factory product."
The Toe Tactic "product" was truly a family affair. Her brother, Ray Hubley, edited the movie. Her mother, whose animation films produced with her late husband John Hubley won three Academy Awards (and seven nominations), had oil paintings featured on the set. And her sister, Georgia, is the drummer and songwriter of indie-rock mavens Yo La Tengo, who provided the dreamy, plunking soundtrack. They weren't "polished recordings," according to Ms. Hubley. "But it didn't matter because they had the spirit in there. Maybe just because I didn't want to have to fake something, I would just put on [Yo La Tengo's] music and dance on set."
Ms. Hubley had been simmering the idea of The Toe Tactic since 2000. She explained that the "very first kernel of it" began with her short Pigeon Within, a four-and-a-half-minute animated film depicting a woman's adventures exploring her own tunnels of doubt while walking along Park Avenue. She encounters her guardian angel and listens to the music of the city. "Pigeon is…sort of about figuring out the multiple realities we live in. But it's also about the creative process, this form of communication that I'm trying to work out that at once exposes the internal life and the external life."
Exploring the themes of Pigeon and then The Toe Tactic "was one of the most instinctive and scary things that I did," Ms. Hubley said. "It was following some sort of small, scratchy feet ahead of you in the dark and not really knowing what they are or where they're going. But I didn't have anything else, so I kept following it. In the making of it, I thought it was about my worst, my most vulnerable aspects. But when people saw it and reacted to it, I was like, 'Oh, this is just what you would hope for.' Because everyone is involved. Everyone is in some state of mystery in their life, and when we can all relish that and feel around in that, that's pretty interesting to me."
Ms. Hubley grew up in Manhattan, attending Friends Seminary, a prestigious Quaker prep school on East 16th Street, and later, Hampshire College. She graduated in 1980. But she got her real education in her mother's studio, in the Riverdale section of the Bronx, where she helped make one animation film a year as an associate producer from 1977 to 2001.
Ms. Hubley went out on her own with films like 1982's Delivery Man, which screened at the Museum of Modern Art and the New York Film Festival and won the Best Film Award at the 1983 Ann Arbor Film Festival. She provided animation and artwork for John Cameron Mitchell's 2001 cult classic Hedwig and the Angry Inch and several award-winning documentaries. She lives in Maplewood with her two teenage children and her husband, Will Rosenthal, a database and Web site developer. Together, they made the 1989 film Blake Ball, an examination of English poet William Blake's beliefs in the journey of life, illustrated with baseball motifs.
Ms. Hubley developed her ideas for The Toe Tactic at Robert Redford's Sundance Institute's 2002 Screenwriters' and 2003 Filmmakers' Labs. In the early spring of 2004, Jen Small, a producer at a small Manhattan film company, Orchard Pictures, took on the project, and the film has been in the works ever since. "This project could never have been turned into some kind of big-budget movie," Ms. Hubley said. "No one would want to or be able to turn it into a plastic product. It's just a living, breathing thing."
As for the premiere on March 29 at the Walter Reade Theater, Ms. Hubley is just hoping festgoers will understand the film's emotional investments.
"It would pain me if people were walking away short of shrugging and saying, 'That was cute,'" she told The Observer. "Because so much went into it, not just for me, for everyone. It would be a disappointment if it didn't resonate. … If people are responding to it, that's the whole sort of point. You know, to vent and feel and not just have the audience be, you know, wowed."
The New Directors/New Films Festival begins March 26 and continues through April 6. For more information and tickets to screenings, including The Toe Tactic on March 29, visit the ND/NF page on the Film Society at Lincoln Center's website.