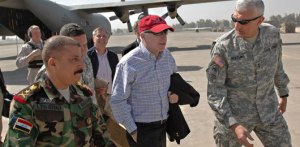 Even though he's in the Middle East, John McCain issued a statement on the case that the Supreme Court is debating today, District of Columbia v. Heller.
The decision of the court will either uphold or strike down the Washington, D.C. ban on handguns, which was passed in 1976 and has become a rallying point for the gun-rights organizations and gun-control advocates alike. Here's McCain's statement:
"Today, the Supreme Court will hear oral arguments on District of Columbia v. Heller, a landmark case for all Americans who believe as I do that the Second Amendment guarantees an individual right to keep and bear arms. I am proud to have joined in an amicus brief to the Court calling for a ruling in keeping with the clear intent of our Founding Fathers, which ensures the Second Amendment rights of the residents of District of Columbia are reaffirmed."