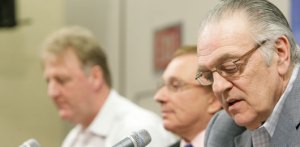 The New York Knicks' decision to hire longtime Pacers' executive Donnie Walsh to run basketball operations should fill Knicks fans with a mixture of excitement and apprehension.
Fortunately, the team has nowhere to go but up, and the fan base's wish list is likely smaller than it has ever been. No demands for a championship. Basketball that is merely watchable will be a cause for celebration.
Walsh brings an undeniable record of success with him—while Indiana has not won an NBA title, the Pacers have been to the playoffs all but two seasons with Walsh in the front office since 1989-90.
He starts with one strike against him, however: it was Walsh who gave Isiah Thomas the head coaching gig in Indiana back in 2000.
That said, there's a pretty simple checklist Walsh can follow to turn the Knicks around.
Fire Isiah
It is fair to wonder if Isiah Thomas knows that each time he discusses his job, he sounds like a horror-movie villain—and that his Knicks are the horror show.
"If there's one thing you can be sure of, I'll never quit and I'll keep coming back," Thomas told the Bergen Record Monday. "You've got to kill me because I'm never stopping."
Unfortunately, that determination simply doesn't translate in any form to the players Isiah coaches. Most of the roster displays an aversion to defensive effort. Offensive plays are haphazardly run—the Knicks are comically inept on plays run out of a timeout, just seconds after Isiah has drawn something up. And even those players handpicked by Thomas can't get along with him (see Marbury, Stephon). It's hard to believe new personnel will like him more.
Also: a new coach is unlikely to cost the franchise more than $11 million due to sexual harassment.
No one epitomizes the culture of losing in New York more than Thomas. And if Walsh keeps Thomas on, it is a tacit endorsement for part of the unbearable basketball played at Madison Square Garden since the end of the Patrick Ewing era.
Rebuild, Don't Retool
The great irony of the current mess is that it stemmed from a belief that New York fans would not tolerate rebuilding. It isn't clear where this idea came from, but in a league with a salary cap, using this as a guiding principle has led to disaster upon disaster. No other team needed to fear bestowing a long-term contract on a potential problem—after all, when that player wore out his welcome, he could just be dumped on the Knicks.
Allowing large contracts to expire, or be dealt in their final year for draft picks, is the most direct path to making the Knicks younger and able to dip below the salary cap. No longer will New York be trading from a position of weakness. In fact, should the draft lottery go New York's way this year, the team could be in position to add a young star worth building around, such as Memphis guard Derrick Rose.
Keep David Lee—at the right price
The one player who has managed to earn the affection of New York is Lee, whose rebounding and intensity seemed to clash with the other Knicks' pursuits. Of course, Lee was promptly benched this season when Zach Randolph became available. The Knicks preferred to go with Eddy Curry in the lineup, whose aversion to rebounding suggests to a basketball phobia.
But with Lee hitting free agency this year, it will be important not to throw anything approaching max-contract money at Lee. He is a very good player, but he is not someone to build a franchise around. Pay too much for Lee now, and getting a free agent like LeBron James is 2010 may become impossible.
Clean House
Everyone else needs to go. This doesn't need to be done tomorrow, though some players are so poisonous that they should be paid to stay away from the team, then dealt when their contract reaches its final year. (See once again Marbury, Stephon.) Others, like Curry, could have value to a team that needs low-post scoring, but has other players who play defense and rebound. Do not be afraid to deal Curry for draft picks. Same with Jamal Crawford, a good seventh man on a championship team who is the overpaid scoring leader for the Knicks.
But don't deal them for other veteran problems. Knicks fans will trade big names for even minimal effort. And please, end the Isiah Thomas era, before he kills again.