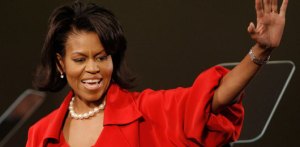 Laura Bush is writing a children's book with her daughter. Publishers in New York want Michelle Obama to write a grown-up book, by herself. Although her husband Barack has not yet secured the Democratic Party presidential nomination, Ms. Obama has been approached by "over a dozen" publishers so far, according to Katie McCormick Lelyveld, a communications director for Ms. Obama.
Most of the calls have been going through Robert Barnett, the D.C. lawyer who represented Ms. Obama's husband when he was shopping The Audacity of Hope to publishers in late 2004. Mr. Barnett, who also works as Hillary Clinton's debate coach and has brokered massive multimillion-dollar book deals for her and her husband, got Mr. Obama a three-book deal from Random House. One of those is a children's book that will be published by Knopf (no word yet on when) and the other is a proper follow-up to Audacity for Crown, the contents of which will depend on what happens in the next seven months.
That's true as well for whatever book Ms. Obama might write, of course.
But publishers are apparantly willing to take the risk. Tim Duggan, a high-ranking editor at HarperCollins' Harper unit who has contacted Mr. Barnett in pursuit of the prize, said a Michelle Obama book would "almost certainly have a major impact, whether her husband is the next president or not."
Either way, Ms. Obama's answer so far has been no. "It's all been incredibly preliminary," Ms. Lelyveld said. "She says, 'Oh, thanks, that's great. It's a nice opportunity but …'" Priorities, Ms. Lelyveld explained, are currently elsewhere.