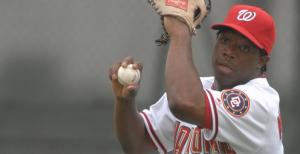 PORT ST. LUCIE, Fla.—It is said a criminal shouldn't return to the scene of a crime. But Washington Nationals General Manager Jim Bowden was on hand Friday to see his team take on the Mets in Port St. Lucie just months after he lifted Lastings Milledge from New York for Ryan Church and Brian Schneider.
And while spring training results are often skewed, the evidence so far is making the Mets look more and more like victims.
"He's had a very good spring," Bowden said as he made his way down the visitor's clubhouse tunnel. "He's impressed with small things, too—he hits the cutoff man, he runs the bases well. He's been a good fit."
Milledge, who Bowden said will be Washington's Opening Day center fielder, is hitting .333 with a .404 on base percentage and a .529 slugging percentage. And these numbers are no fluke—Milledge has hit at every turn. He hit well over .300 last spring for the Mets, and followed with an above-average offensive season as a 22-year-old.
Milledge got the day off yesterday, but the Nationals already know what they've got.
"He's been a favorite of mine going back to high school," Bowden said. "Some of the bumps he went through as the youngest player in the National League—if a veteran had gotten excited and high-fived the fans after hitting a home run, it would have been taken very differently."
Bowden was also complimentary of Brian Schneider and Ryan Church, calling the trade "a good short-term deal for the Mets, though we think we greatly improved our team now and in the future."
The short-term impact has been limited so far, though injuries have certainly played a role. Schneider, brought in to catch regularly, has played in just three of the Mets' first 24 exhibition games. He was expected to play Friday, but his hamstring kept him out once again. With much of his value tied up in his handling of pitchers, it remains to be seen how much has been lost by his inability to learn the staff first-hand.
The Mets did get to see Schneider's predecessor, Paul Lo Duca, who made the trip to Port St. Lucie. Lo Duca seemed determined to show the Mets that they erred by failing to make him a contract offer this winter. He had one hit in three at bats, and threw Jose Reyes out at third base, displaying a defensive prowess missing for much of his time in New York.
"Paulie's worked really hard for us," Bowden said. "He's started hitting, and he threw out two runners yesterday. When you're a starting catcher, and every year your teams win, there's a reason for it."
Schneider is likely an upgrade over Lo Duca, due to his age—he is nearly five years younger than Lo Duca, and the difference between 31 and 36 is enormous in catcher years—his defense, and even his secondary offensive skills, which don't require a high batting average to contribute to the lineup. But for that edge to assert itself, Schneider will have to take the field.
As for Ryan Church, his nightmare spring continued. There is ample evidence that he will provide a solid lefty bat plus defense in right field for the Mets, though his talent is much more limited than Milledge's. But even his modest upside has yet to show itself, with a concussion and then the birth of his child limiting his performance.
Church went 0-for-2 Friday, dropping his spring average to .152. He struck out for the seventh time in 33 at-bats. And despite a history of power hitting (his lifetime slugging percentage is .462), he has yet to provide even one extra base hit.
Again, small-sample-size warnings apply to all spring performances. But the Lastings Milledge trade was a questionable baseball move and a highly unpopular one with the fans. All signs suggest that Milledge is ready for a huge year in Washington. Church and Schneider have yet to do anything to make the Mets feel any better about that fact.