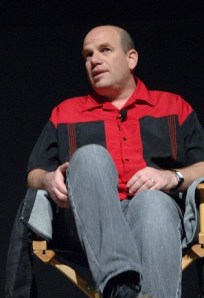 At the Columbia Journalism School on Wednesday night, David Simon, the former crime reporter and creator of HBO's massively popular urban drama series The Wire, didn't waste any time before he started blasting his ex-bosses at The Baltimore Sun, the overall quality of American newspapers and, harshest of all, newsrooms that are more concerned with winning prizes than with maintaining sophisticated and nuanced coverage.
"To explain the who, the what, the when, the where, the how—that's easy shit. It's even easy shit if you caught someone with their hand in the till, if someone's doing something overtly wrong," said Mr. Simon, who was soft-spoken, but seemed to enjoy dropping a few choice expletives. "The why is epic. The why is where journalism becomes an adult game."
But, he continued a few minutes later, "The why will not get you a prize. Where was their dick caught? That shit will win you a prize."
His remarks were directed at the "vast majority" of regional newspapers (not The New York Times or The Washington Post, he made clear), but specifically took to task John Carroll and William Marimow, The Sun's former editor and managing editor, respectively. It's Mr. Simon's opinion that they began eviscerating the paper toward the end of his 12-year tenure there (which ended with an embittered buyout in 1995) by cutting back on newsroom resources and obsessing over Pulitzers rather than promoting contextual beat reporting in a poverty-stricken city. The fifth and final season of The Wire focused on this criticism.
Mr. Simon's argument was hardly new. He'd already elaborated on it in a Washington Post editorial, a feature in the Columbia Journalism Review, and an essay in the March issue of Esquire, each of which sparked the requisite flurry of media buzz (including an article in the pages of The Observer). But last night, there he was taking aim at the Pulitzer Prizes inside the very institution that hands them out, right down the hall from the room where, in another week or so, the Pulitzer board would convene for two consecutive days to determine this year's "prize-chasing" winners. The irony!
More bleak was Mr. Simon's forecast for the future of newspaper journalism: layoffs and cost-cutting will abound (Newsday, case in point), resources will continue to diminish (did you catch that Times story about how the campaign buses are pretty lonely these days?), and eventually, most regional papers will fold, leaving readers throughout the country to choose between the two or three most prestigious national titles that manage to survive in print.
It probably wasn't the best message to deliver to a room full of J-schoolers about to be set loose into the job market come May. Indeed, one alum pressed Mr. Simon on just how dismal the outlook for cub reporters really was.
"These people aren't all going to just drop out of school," she said.
To that, Mr. Simon finally offered a bit of optimism. In his prediction, the type of deep, local, issue-oriented reporting that he believes was lost at The Sun and other papers will gravitate to magazines (general-interest pubs like Newsweek excluded, he said), and perhaps there will be more book contracts. Not to mention this thing called the Internet.
So, those $65,000 J-school degrees might just pay off after all?
"Journalism is gonna survive. I just don't know in what form," he said, adding, "I don't know that newspapers can save themselves at this point."