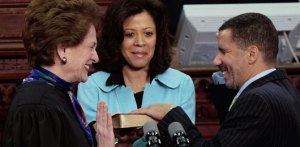 New first lady Michelle Paterson was supposed to have made her first public appearance since her husband was sworn in, at City College this morning, to discuss childhood obesity.
It also would have been her first public appearance and since she and her husband admitted to both having extra-marital affairs.
But she didn't show.
From Choire Sicha, who's in the field and apparently very busy:
"couldn't be with us this morning"–moderator "our best wishes, our hopes, our prayers" are with her and gov. There were healthy snacks, fruit and crackers. A brief statement from ms paterson was read.
David Paterson is expected to have a press conference in Albany to address the issue further.