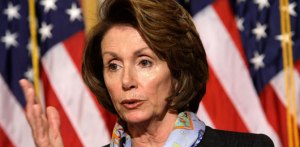 Whatever her official posture, Nancy Pelosi is not neutral in the Democratic primary.
Typically, for instance, someone who is neutral wouldn't say that victory by one of the candidates would be "harmful." That's essentially how Pelosi, the supposedly impartial House Speaker, has characterized the prospective nomination of Hillary Clinton.
"If the votes of the superdelegates overturn what happens in the elections, it would be harmful to the Democratic Party," Pelosi said in an interview for ABC's "This Week" that was taped late last week.
That just so happens to be the only plausible scenario under which Clinton could still get the Democratic nomination from Barack Obama, who will close out the primary season ahead in the pledged delegate race and, almost certainly, in the popular vote count – even if do-overs are held in Michigan and Florida. The Clinton campaign itself has all but acknowledged this, pursuing a strategy that is designed to incite intra-party panic over Obama's general-election prospects and to foment a mutiny by superdelegates that would deny him the nomination.
In effect, Pelosi has now said on national television that Clinton will hurt the party if she succeeds. And lest anyone think Pelosi would be willing to grant Clinton some wiggle room should she manage to surpass Obama in the popular vote count (but not the pledged delegate race), Pelosi also made her position clear on that score as well: "It's a delegate race."
This might be surprising if Pelosi really were neutral. But by all measures, she isn't – and hasn't been for a long time. She was somewhat cool to Clinton and her campaign from the very beginning of the 2008 cycle, and over time began sending clear signals that Obama is her candidate. When George Miller and Anna Eshoo, fellow House Democrats from California through whom Pelosi often telegraphs her wishes, endorsed Obama a few months back, the hand of the Speaker was apparent.
There are both philosophical and pragmatic factors underpinning Pelosi's preference for Obama – and lack of enthusiasm for Clinton.
Any assessment of Pelosi's motives, for instance, must consider the Iraq war. While much of her party's leadership (and rank-and-file) capitulated, Pelosi – as the House minority whip – was the highest-ranking Democrat to oppose the war resolution in the fall of 2002. In the aftermath of that vote, she ran for minority leader (to replace the departing Dick Gephardt), and was opposed by Texas's Martin Frost, who had voted for the resolution and who warned that the party "will not win the next election" by formally opposing the war and George Bush's foreign policy.
Pelosi won that leadership fight but has never forgotten the frustration of having so many of her fellow Democrats turn a deaf ear to her warnings about the perils of invading Iraq. And it's a frustration that she has revisited frequently during her first 14 months as Speaker, as it's become clear just how difficult un-doing the 2002 war vote really is.
On this level, Obama, who spoke out against the war in the fall of '02, is the natural choice for Pelosi, especially compared to Clinton, one of the many congressional Democrats who sided with the White House. When it comes to ending the war, and to avoiding similar entanglements in the future, Pelosi can reasonably conclude that she'd have a far more reliable partner in a President Obama than in a President Clinton.
The pragmatic impetus for Pelosi's pro-Obama posture may be even stronger. On Iraq and so many other issues, she has experienced the limits of a barebones House majority. But there is a clear opportunity this year for Democrats not just to maintain control of the House, but to tighten their grip substantially. Generic polls show the party outpacing the G.O.P. And Republicans have been beset by a wave of retirements – many in House districts that are not out of reach for the right Democrat – and crippled by the anemic fundraising that generally accompanies minority-party status.
Key to seizing this opportunity is fielding a presidential candidate whose top-of-the-ticket presence will boost, or at least not severely hurt, down-ballot candidates. And Pelosi surely realizes that, much more than Clinton, Obama fits this bill.
Sure, a handful of critical House races – marginal seats that Democrats are defending and open seats that they are eyeing – are in Pennsylvania and Ohio, states where Clinton has been touting her supposed superiority over Obama. But her strength in these states is among Democratic primary voters. Polls in both states show Obama running no worse – and, in many cases, marginally better – than Clinton in general election match-ups with John McCain. So even in Clinton's strongest primary states, there is little reason to think her presence in the fall will be any more beneficial to House candidates than Obama's.
But there are many states that are critical to the Democrats' House strategy in which Obama dramatically outperforms Clinton.
Consider Kansas, a state whose importance has been denigrated by Clinton and her campaign, who argue that it's off-limits to Democrats in the fall. But this is only half-true. The state would be a lost cause for Clinton, who trailed McCain there by 24 points in one recent poll and who would write it off much the way past Democratic candidates have.
But it would not be so off-limits to Obama, who trailed McCain by only six points in that same poll (and who thrashed Clinton by 40 points in the state's February caucuses). It seems unfathomable that Obama would seriously compete for and win such a staunchly Republican state, but his appeal to independents and Republicans would, at the very least, make for a much closer fall race.
And that would trickle-down to the House level, particularly in the state's 2nd District, where Democrat Nancy Boyda upset Jim Ryun, who had been one of the House's most conservative members, in 2006. The 2nd District voted for George W. Bush by 20 points in 2004. If it favored McCain by that margin in the fall, Boyda would need to run 21 points ahead of her own party's presidential candidate to preserve her House seat. But if McCain's top-of-the-ticket margin could be cut to single digits – or, dare it be suggested, actually erased – the Democrats' odds of retaining the seat would be significantly enhanced.
Pelosi, more than anyone, knows that there are a many districts like Kansas' 2nd all across the country, in states that Clinton – like John Kerry and Al Gore before her – is already prepared to cede to the G.O.P. without a fight. That alone is reason enough to weigh in on Obama's behalf.