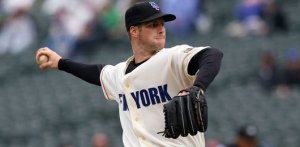 It is impossible to overstate the magnitude of the collapse suffered by the Mets at the end of the 2007 season. Seven games up with 17 to go, New York finished 5-12 to land one game behind the Phillies. It was a choke to top all chokes.
And yet, to judge by the lack of radical restructuring over the off-season, the team decided that while the embarrassment was huge, the actual personnel problems that needed fixing were small.
Here's why they're not all wrong: The offense, even during the collapse, averaged nearly six runs per game. The back end of the bullpen was a strength for most of the season. And the rotation included a pair of young starters, Oliver Perez and John Maine, who established themselves as top-tier pitchers.
What the Mets needed to provide for this season was, at minimum, a guarantee of some extra innings, either from the starting rotation or in middle relief, to keep the back of the bullpen from burning out.
It appears they have done so.
The Mets now have the best pitcher in baseball in Johan Santana, they should get a full season from Pedro Martinez, and they have solidified their middle relief. At the same time, they have improved their defense, while keeping their offense largely intact.
What this all means is that on paper, at least, this year's team should be significantly better than the team that ended up winning 88 games last season.
Santana, of course, is the key change. He adds more than just quality—if his career is any indication, he adds quantity as well. No Mets pitcher threw more innings than Tom Glavine's 200 1/3 last season. But Santana has tossed 219 innings or more in each of his four full seasons as a starter—and at an ERA each year more than a run lower than Glavine's 4.45. Oh, he also did this in the American League, against lineups with designated hitters.
Pedro Martinez, if he lasts the season, will be a boon. He was more than serviceable when he pitched last season. Despite reduced velocity, he had 32 strikeouts in 27 innings and a 2.57 ERA. Both marks would have placed among the league leaders over a full season. And Martinez threw even better this spring, adding another 2-3 miles per hour to his fastball.
Then there's Oliver Perez, whose control this spring improved solidly. John Maine has been superb. And Orlando Hernandez, who was the best starter the Mets had for much of last season, appears ready to return.
The Mets received competent performances from five starting pitchers last year—Glavine, Martinez, Perez, Maine and Hernandez. The total innings? 744. Even conservatively, if Santana provides 220 innings, Maine 200, Perez 180, Martinez 150 and Hernandez 100—that total is 850. That's another 106 innings the middle relievers don't have to soak up. And the total is likely higher than that.
The middle relief, a chamber of horrors last season, should provide the Mets with quality innings this year. Guillermo Mota and his inexplicable 52 games of 5.76 ERA pitching gone, replaced by Matt Wise and his three straight seasons of solid relieving. Duaner Sanchez appears to be no more than a few weeks away—his problem is endurance, not effectiveness, at this point. This leaves Willie Randolph with the chance to use Scott Schoeneweis and Jorge Sosa as lefty and righty specialists—roles they're much better suited for.
The pitchers will also be helped by defensive improvements. Brian Schneider is a far better defensive catcher than Paul Lo Duca. In right field, Shawn Green was a defensive liability, while Ryan Church is a plus in the field. While Moises Alou recovers from his hernia surgery, the outfield of Church in right, Beltran in center and fill-ins Angel Pagan and Endy Chavez in left won't miss much hit in the air.
Given what happened last year, no one's going to believe this team is going anywhere until they actually get there. But the pre-season roster improvements are a very good start.